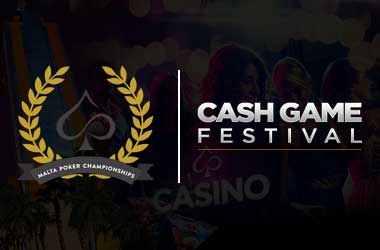 The Malta Poker Festival (MPF) held its inaugural edition at the Portomaso Casino in 2018 and was very impressed with the results. As a result, the MPF decided that it would return towards the end of 2019 and promised a tour stop that would run from 30 Oct to Nov 4.
However based on the positive feedback and player demand, the MPF decided that it will not wait till October to return. MPF announced that it would return to Portomaso Casino from May 13 to 19 and this time come up with something even better as the MPF decided to team up with the Cash Game Festival and launch a new and innovative concept.
MPF founder Ivonne Montealegre was very excited to team up with Cash Game Festival as she said that it was something that she had in mind for close to 10 years. They were finally making it happen in 2019 and the partnership will provide mutual benefits for both poker operators as well as a lot more benefits for the players.
Malta Poker Festival
The May poker festival will start off with cash games and slowly introduce a series of championships which will give poker players a lot more options. The poker festival will be live streamed as well.
Poker players who have gone used to attending cash game festivals will be used to the concept of live streaming. The live streaming part will now extend to the MPF championship final tables which will allow players to go back and learn from their experiences. Club Level 22 which has a reputation for being the highest local in Malta will be the venue for the MPF and Cash Game final tables.  
Number Of Exciting Events
There are a number of exciting events that will take place during the poker festival. Some of them include the Hendon Mob Short Deck Championship and the Betsson One Bullet which is a No Limit Texas Hold'em Championship that has a complete freezeout.
The Portomaso Casino is one of the top casinos in Malta and has the experience of successfully organizing a number of top poker festivals. The poker festival will focus a lot on the basics and has a number of low and medium stake buy-in events that will enable poker players of all bankrolls to participate, have fun and win some exciting prizes.