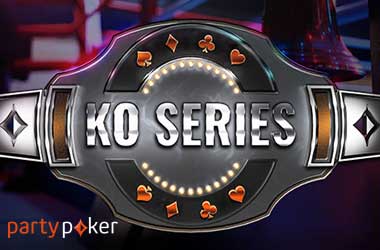 partypoker recently confirmed that its KO series will have a total of $10 million in guaranteed prize money and run from June 3 to 10. There will be a total of 226 progressive knockout events during this 8 day online poker festival and the online poker room is expecting another record turnout.
Progressive Knockout or commonly known as PKO tournaments have become very popular with the online poker community as it gives players the opportunity to win cash quickly. Each player starts out with a bounty with 50 percent of the bounty being collected as a cash prize and the remaining 50 percent going to the winning player with the knockout hand, each time a player gets eliminated.
The KO series will have as many as 4 Championship events with a combined prize pool of $2 million. Two of these championship events will be played 6 handed tables while the other two events will take place at 8 handed tables and follow a smooth blind structure. For those who are not familiar with the smooth blind structure, this means that the cost per round will increase only by 10 percent or thereabouts for each blind level.
Championship Events
The first 6-Max championship event will be on 3 June and have a $530 buy-in with a $500k guarantee and will be followed up by the Championship Smooth event with a $500k buy-in. The second 6-Max championship event will take place on 10 June and follow the same buy-in and guarantee as the first 6-Max championship. The Championship Smooth event will also take place on 10 June and have a $500k buy-in.
Since the bounties at the PKO are bigger than ever before, partypoker decided that it would drop the rake from the bounty factor of the buy-in. This move will surprise a lot of players and poker operators as it is an experiment that Tom Waters, MD for partypoker decided to implement in order to see the reaction and results.
Rake Removed On Bounty Element
Waters confirmed that this move will last for a period of 6 months. Based on feedback and results, partypoker will then take a decision if they will continue with this format or make changes.
Partypoker decided to take this bold step based on feedback collected from the poker community and partypoker players. Should it turn out to be a success, partypoker will look to permanently reduce their pricing format.