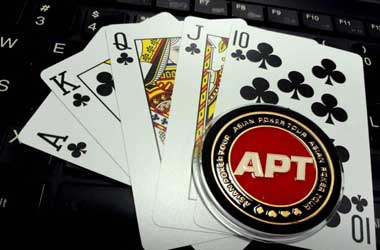 Poker players in Asia as well as other parts of the world have another reason to get excited despite the ongoing coronavirus pandemic. Asia's leading online poker platform Natural8 will, for the first time, host an online edition of the popular Asian Poker Tour (APT).
The APT online edition will run from April 29 to May 10, the online series will feature four major events. These events are the $500 buy-in Main Event, $800 buy-in Championships, $400 buy-in Pot Limit Omaha Championships and the $400 buy-in Short Deck Championships.
The online edition will follow the format and structures of the APT live event, and will also feature different starting times for each event so players can focus on their chosen event for the day.
APT Action Continues
The APT is an annual poker festival held in various locations across the Asia-Pacific region, such as Macau, Australia, and the Philippines. The live series, known for its exciting lineup of events, also has a dedicated leaderboard, in which the winner receives the APT Player of the Series trophy, plus extra prizes and cash.
The series is marking its 13th year by moving online, giving poker players and fans all over the globe the opportunity to join in on the action without worrying about travel and accommodation.
Despite the current global health crisis, which forced the cancellation of numerous live events, and the temporary closure of casinos and card rooms worldwide, APT's General Manager and Executive Tournament Director Lloyd Fontillas said they remain committed to keeping the action going for players and fans wherever they are in these trying times.
APT Online Series will also feature different buy-in options to cater to regular players, according to Fontillas. Natural8 has been working with the APT over the last few years and Fontillas said they are excited about this latest partnership with Natural8.
Natural8 Continues To Grow
Apart from hosting the twelve-day APT, 8Natural8 will also continue to run their guaranteed daily events for the online grinders. The online poker operator has seen significant growth over the last four years and is represented by some of Asia's top poker pros, including Michael Soyza, Dong Kim and Kitty Kuo.
Alongside exciting MTTs, a host of innovative games such as All In Or Fold, as well as Rush & Cash are also available in the platform. It is also the only poker client offering in-game staking.
The full schedule of the 2020 APT Online Series will be announced soon!