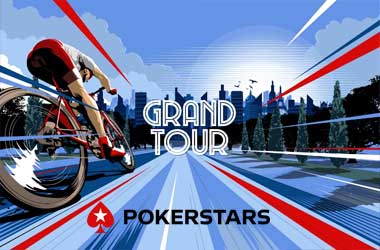 PokerStars launched the "Grand Tour", a marathon-style progressive knockout tournament in May 2020. The Grand Tour involves a series of "sprints" leading to a finish line.
What makes this new game unique is that players get the chance to win bounties during the very first hand.
The prizes up for grabs increase with each stage and players keep the bounties they earn along the way, even if they fall short of reaching the finish line.
How To Play The Grand Tour
Players who want to take part in the Grand Tour have six buy-in options: $1, $2, $5, $12, $25 and $60. The games are played in four-handed Sit & Go Hyper Turbo format, meaning you can win some cash in just a short span of time, and since the tournament is bounties-based, it eliminates the need for players to play and wait longer to reach the prize pool.
With an investment of as low as $1, players can win as much as $150 in less than an hour! You have the option to start from the bottom or simply buy in to the higher stages so you're closer to the finish line. For every player you eliminate, you win some cash and you're guaranteed to keep all the bounties you're able to collect, despite not getting to the final stages.
The Grand Tour is great for those who are into fast-paced action and who want to avoid long unproductive sessions. It also provides much-needed time flexibility if you have other things to attend to other than playing poker. You are not required to play all the sprints in one go. You can always start with one or two and then come back anytime you want.
Key Facts and Figures
The Grand Tour proved to be a hit among players and so far, PokerStars has awarded over $33.5 million in bounties to the winners. That huge sum accounts for the site's .com client alone, with the segregated markets also recording strong figures.
Among the biggest winners in the series thus far is "zjuupa" who managed to take home $149,220 in bounties, smashing the previous record of $74,880. Germany tops the list when it comes to the countries with the most successful Grand Tour tournaments, with nearly 11,000 sprints being won by the German players since the series began.
When you look at PokerStars' European market, France recorded over 5,000 sprints, while Spanish player "lacabanha" won the biggest bounty in the region, worth $51,125.