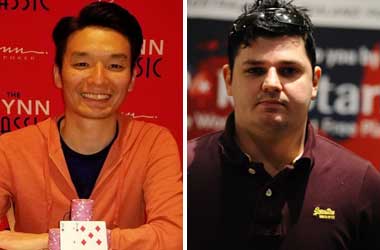 The 2018 Wynn Summer Classic ended with a chop deal for Hong Kong's Vincent Kwun Ngai Li and Australia's Dominic Coombe. They shook hands and closed the deal which gave them both the biggest live tournament payout of their careers.
The Wynn Las Vegas has had a rocky year as its parent company Wynn Resorts has had to deal with the departure of its long time CEO Steve Wynn. The controversy surrounding Steve Wynn's exit caused major shock waves for the company and its stock price and public image took a beating.
Wynn Las Vegas put all that behind them and hosted the 2018 Wynn Summer Classic which turned out to be stronger than ever.
The tournament attracted a total of 2,427 entrants which was the biggest field size in Wynn Poker tournament history. They also broke their $1 million guaranteed prize pool and doubled it to more than $2.4 million, which was of course great news to the players who signed up.
Poker players from all over the world are currently in Las Vegas to play at the 2018 World Series of Poker (WSOP). A number of foreign poker players made their way over to Wynn Las Vegas and signed up for the event. With the huge prize pool at stake, the competition was fierce and in the end, it was the foreign players who had a great run at the event.
The top four poker players at the event were from Bulgaria, Belgium, Hong Kong and Australia. None of the US poker pros managed to make it to the final four. The final two players were Li and Coombe who decided to shake hands, settle a deal and chop the pot. They both ended with nice payouts for their summer run.
Chopping Deals Sometimes Make More Sense
Chopping deals is not uncommon in the poker world as it usually ends up in a win-win situation for both parties. With tournaments like the Wynn Summer Classic, where the cash is more important than the trophy, Vincent Kwun Ngai Li and Dominic Coombe took the smarter route by settling for a deal so both could go home with a good sum of money.
After the deal took place at heads-up, Li ended up in first place and took home $280,594, while Coombe settled for second place with $266,639. Thomas Boivin finished in third place with $149,961 and in fourth place was Ivan Zhechev with $106,810 in winnings.