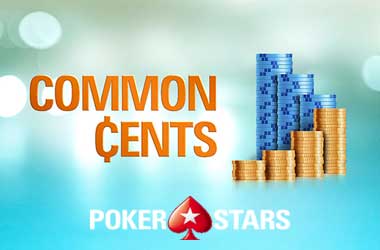 PokerStars, the biggest online poker website in the world has announced that it's popular 'Common Cents' tournament will make its return in 2018. The last edition of 'Common Cents' was held back in 2015.
The 2015 'Common Cents' tournament was a great success and only had 14 MTTs. It gave online poker players the opportunity to play all events for below $1 and became the biggest online poker tournament in history recording a massive 253,692 player registrations.
The 2018 'Common Cents' online poker tournament will have a total of 23 (multi-table tournaments) MTTs which will run from June 24 to July 1.
PokerStars is expecting to break the previous record and has lined up a great opening event. The first event will have a buy-in of just $0.01 and have a guaranteed prize pool of $100,000.
The 'Common Cents' tournament will see a total of $270,000 in guaranteed prize money and the highlight of the online tournament will be the Main Event. The Main Event has a buy-in under $1 and a guaranteed prize pool of $25,000. The Main Event will guarantee the eventual winner a payout of over $3,000 – that is not a bad return on an investment that is less than $1.
Platinum Pass Up To Be Won
PokerStars is pushing micro stake online tournaments in an effort to get poker players from all over the world to sign-up and take part. The online poker giant is also throwing in a Platinum Pass into the tournament to make it more interesting for the players.
The Platinum Pass has a $30,000 value and includes a $25,000 buy-in to the PokerStars Players NL Hold'em Championship (PSPC) which takes place in the Bahamas in January 2019. PokerStars is set to give out as many as 300 Platinum Passes spread across specific tournaments to give players the opportunity to qualify for the PSPC event which has a whopping $9 million in guaranteed prize money and the winner is expected to walk away with over $1 million.
To be eligible to win a Platinum Pass at 'Common Cents', players will have to take part in a minimum of four online events. They will then qualify for the All-In Shootout event which takes place on July 2nd . The winner of this event will receive the Platinum Pass. To find out more information about 'Common Cents', please visit PokerStars.com.