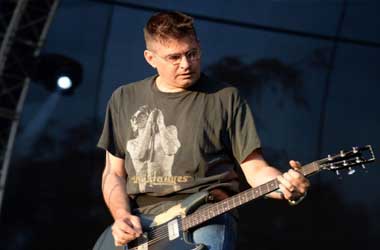 Steve Albini firmly believes that there's hope for every poker player at the World Series of Poker (WSOP). Albini has been a renowned and successful veteran—not in the poker field but in the music industry. He is the iconic musician behind punk rock bands Shellac and Big Black, and the producer behind international success like Nirvana's In Utero and Pixies' Surfer Rosa albums.
Albini turned up at the 2018 WSOP to have fun and see if he can finish in the money. He played event 31: $1,500 Seven Card Stud and he was able to outlast and defeat a number of multi-bracelet holders at the final table to finish in first place and win $105,629.
Poker pros Chris Ferguson and Jeff Lisandro who have won 6 WSOP gold bracelets each were favourites at the event but were unable to take down Albini. Ferguson finished in 2nd place while Lisandro had to settle for 4th place.
Frankie O'Dell who has two WSOP bracelets to his name finished in 5th place. Although Albini is more of a recreational poker player, he started playing poker in 1969 and was taught by his great grandmother. Before his 2018 WSOP victory, he has been able to squeeze a couple of mixed games and seniors events at the WSOP over the years. Some of his cashes include a 14th place finish in 2010 and 24th place finish in 2014. Both those events were $1,500 Seven Card Stud events. His biggest cash prior to the 2018 WSOP was a $40,694 payout from the $1,000 No Limit Hold'em Seniors Championship in 2013.
Credit Paid To Chicago's Mixed Game Community
Albini loves playing seven card stud and credits a very active mixed-game community in Chicago for helping him get enough practice and confidence to win at the WSOP. He also credits former Poker Players' Championship winner Matt Ashton, for mentoring him with heads-up stud game strategy since he admittedly had little few heads-up experience. Albini also credits his win to the historically low turn-out for the stud event because it ran simultaneously with the seniors event and the $50K Poker Players Championship.
In a statement, Albini said,
With some prescient coaching from my friends and a good run of cards – I ran pretty f***ing good as well. I hit a lot of hands early in the final table. I am ecstatic that a player as mediocre as me can outlast all of these better players and end up with a bracelet. There's still hope for everybody