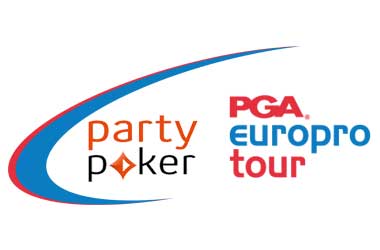 partypoker has done tremendously well for itself in the last 24 months by reviving its online poker room, expanding its live poker offerings and building a strong connection with its growing player database.
These efforts were recently awarded at the 2018 EGR Awards Ceremony where partypoker was conferred with the 'Poker Operator of the Year Award'.
The online poker room promised that it had bigger and better things in store for 2019 and its latest announcement confirms a lot of new plans in the works.
partypoker recently announced that it has secured the sponsorship rights for the 2019 PGA EuroPro Tour. This will enable partypoker to boost its brand image across Europe as the PGA EuroPro Tour has a strong following especially with the younger generation. The brand will benefit from the social media marketing campaign that will specifically target a wide audience throughout Europe.
partypoker has secured branding rights through this sponsorship deal and will also have the opportunity to select golfers on the tour and sponsor them. partypoker MD Tom Walters and PGA EuroPro Tour Chairman Barry Hearn were very happy with this new partnership.
In a statement, Hearn said
Our developmental golf tour has become one of the leading circuits for young professionals looking to become tomorrow's superstars of the sport. I am really looking forward to building on an already strong relationship with partypoker and can't wait to see the benefits it will bring to all involved in the PGA EuroPro Tour
Push To Be Top Poker Operator In 2019
partypoker announced in 2016 that it was going to go all out to once again become a major force in the online poker market. The brand has lived up to its promise during the last 24 months as significant changes have been made to boost its online poker offerings, increase the guaranteed prize pools and make changes to its VIP rewards program.
One of the ways that partypoker is looking to stand head and shoulders above other iPoker operators is by putting out massive guarantees and expanding its presence across the world. The big challenge for online poker operators in Europe is the restrictions being imposed on gambling related advertisements. A partnership with the PGA EuroPro will give the brand a nice opportunity to get in front of millions of European fans. partypoker has promised to continue its push for market dominance in 2019 as it looks to challenge the likes of PokerStars and 888poker.