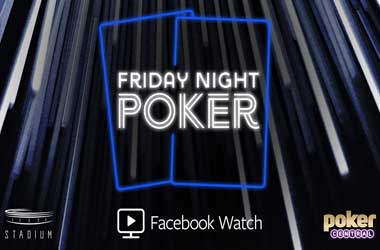 Poker Central, the company behind PokerGo are taking poker entertainment to the next level. The company recently announced that they have partnered with Stadium which is a sports network that offers live and on-demand events on multiple platforms. Together, they are launching Friday Night Poker which will be broadcast on Facebook Watch.
The Friday Night Poker show will make its début on September 21 and will give fans the opportunity to interact with poker pros as they play no-limit hold'em cash games. Fans will also be given an opportunity to win a seat in the game.
In a statement, Sam Simmons, VP of content for Poker Central said
As Poker Central continues to expand its reach across audiences, growing in highly engaged social channels was a clear evolution. Developing Friday Night Poker as a customized viewing experience on the Facebook Watch platform represents a significant milestone in that growth
Friday Night Poker
Friday Night Poker will be set in the PokerGo Studio which is located in Las Vegas' ARIA. It will be broadcast between 7 pm and 11 pm EST on a 30-minute time delay and the series will run on Friday nights for 13 weeks. Facebook Watch is a free app for mobile devices and desktops.
Stadium CEO Jason Coyle stated that Stadium and Poker Central take pride in bringing live television to the next level by integrating social and interactive components into their broadcasts. He is excited about bringing poker fans an entertaining and educational experience. The new show will be hosted by Podcaster Jeff Platt who will be joined by Brent Hanks and Amanda Leatherman. They will moderate exclusive question and answer sessions that will involve viewers and the players who are competing at the table. This provides a great opportunity for viewers to get strategic advice during live play.
The Lead Up To Friday
Every Thursday night at 7pm EST, the team consisting of Platt, Hanks and Leatherman will share their thoughts on poker, talk about strategy, and go over the lineup of players who will be part of the following night's event.
What Is Facebook Watch?
Facebook Watch allows viewers to watch original shows and popular videos. These shows cover numerous everyday topics ranging from teen dramas to the most legendary families in sports as well as everything in between. Viewers can watch the most popular videos, inspiring stories, and get pointers from your favourite creators and producers.