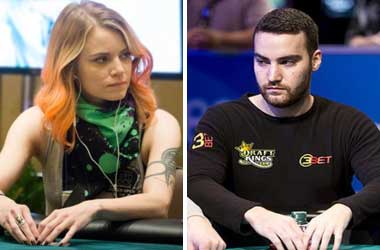 A bitter dispute between Cate Hall and Chad Power has become public after Hall took to Twitter and accused Power of extortion.
Hall claims that she entered into an agreement with Power about a year ago in which Power would stake her for cash games and receive a percentage of profits based on her winnings – if any.
Hall then lost $60,000 playing in mid-stakes games. She claims that she isn't liable for the losses according to the terms of the deal.

In a Twitter post, Hall said she would be interested in having financial backers in the future but she would never agree to be responsible for 100 percent of her losses while only getting a part of the profits. She further claims that Chad has threatened to drag her name through the mud if she doesn't pay him the $60,000. She referred to the threats as extortion.
Instead, he says that unless I pay him the full amount of the makeup, he will publicly drag me as a scammer. It's been a while since I practiced law, but if that's not outright extortion, it's at least extortion-adjacent. No matter. pic.twitter.com/3CWZdgbMAV

— Cate Hall (@catehall) September 17, 2018
It is quite common for poker players to make staking deals and they are often terminated when the staked player goes bust. Cate Hall has over $1 million in career prize money based on the Hendon Mob. Hall acknowledged that her deal with Power didn't turn out well for Chad but she said that it isn't her problem. For now she has decided to take a break from playing poker because of personal issues.
Betting On Hall Was A Bad Bet
In a TwoPlusTwo post, Power wrote that he doesn't expect to get any money from her. He has no documentation to prove that she had originally agreed to pay back 100 percent of her losses but he went on to caution other financial backers to think twice before backing the female poker pro.
Hall also had an answer to Power's claims that she was a bad horse to bet on. While she agrees with his statement, Hall explains that she didn't choose to have the spiritual and mental crisis that temporarily derailed her poker career. However, she admits that she chose to accept Chad's financial backing at a period of time when things were tough for her.
Arbitrator Rules In Favor Of Hall
Power accused Hall of abusing drugs and said that it impacted her ability from being able to play and win small-stakes games. He also said that Hall lost nearly half of the $60,000 in two sessions playing against players like Phil Hellmuth, Mike Matusow and Brandon Cantu. The two battling it out in social media created a lot of gossip and did not do their reputations any good.
The pair took their case to a third-party arbitrator who ruled that Power shouldn't be able to recoup his money because there was no proof of her agreeing to repay losses. The arbitrator suggested that they resolve the issue with a buyout or continue their arrangement when Hall resumes her poker career.