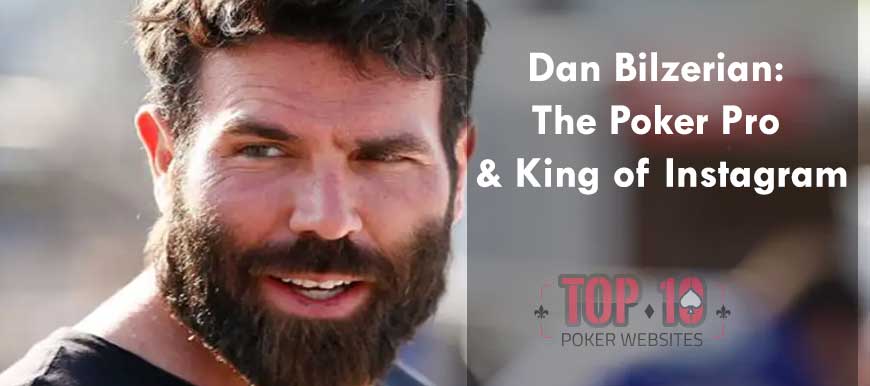 The game of poker has seen many colourful personalities over the years, and one name that always invokes a response – be it from organizers, fellow players, the media, or the public – is Dan Bilzerian. Bilzerian is a personality that seems to come straight out of some superhero novel. Only he is not just a warm mix of good and sublime; there are enough shades of colour to make you wonder, and of course add to the intrigue attached to the name.
Everything about the man seems larger than life and the stuff that makes for exciting reading – from his childhood to his exotic high-flying playboy lifestyle to his outrageous Instagram posts to his reputation as a top poker professional. Add to all of this the fact that his brother is also a poker pro and things get even more interesting. In this blog we try and figure out who this is Dan Bilzerian and what he is about to himself, to poker, and the world in general.
Early Childhood
Bilzerian was born in Tampa, Florida, on 7th December, 1980 to Paul Bilzerian and Terri Steffen. His father Paul was a corporate raider and known as a takeover specialist. Dan grew up in luxury, which included an 11-bedroom mansion with a swimming pool, a batting cage, an indoor basketball court, a water slide, and also a volcanic rock mountain that was apparently imported. Of Armenian descent, Bilzerian has gone on record saying that half of his family perished in the Armenian Genocide.
The entire family was known to possess high IQ levels and it was a given that Dan would do well in school and later. But, by his own admission, his childhood was quite difficult, with loneliness and rebellion playing a big part, something he attributes as the reason behind his outrageously rebellious streak. His dad was, besides being a corporate raider, a Vietnam veteran as well. A busy life for the father meant loneliness for Dan and that was something he struggled to cope with.
Things got difficult when his father was sent to prison for tax fraud – he was accused and found guilty on 9 counts of tax and stock fraud: putting in investments into public companies, staging attempted hostile takeovers, and then selling off the investments as the stock price of the company skyrocketed to stratospheric levels. The contempt of his peers over his father's imprisonment was hard to take for Dan and he evolved into this rebellious youngster who had problems no matter where he went.
Dan Bilzerian and Poker
According to Dan Bilzerian his tryst with poker started at the University of Florida. He had enrolled there after a stint in the Navy to study business and also criminology. He says his study was initially funded by a $6000 monthly disability allowance he was entitled to as a veteran with injuries and an honorable discharge. As per his story, he was broke by the 2nd year at the University and had to focus on poker to recoup his money. Apparently he turned his last remaining $750 into a $10,000 bankroll that saw him hit Las Vegas where he was able to convert that $10,000 into a cool $187,000.
He did not finish his education at the University of Florida and instead got down to playing poker, he says. The first time the world of high stakes poker heard about Bilzerian was in 2007 during the course of a game at the Harveys Lake Tahoe hotel. The first time he took a shot at big money winnings was when he became part of the World Series of Poker Main Event in 2009. That didn't end too well as he finished 180th, with winnings of $36,000 – peanuts compared to the $8.5 million that the eventual winner Joe Cada raked in.
Dan claimed in an interview (below) in July 2014 by Howard Stern, the radio host, his net worth was close to $100 million. According to him half of that money came from poker winnings the previous year, something that other poker professionals don't generally agree on. To his credit, Dan never has claimed to be a fantastic poker player to justify his claims to big wins; according to him the trick to achieving that lies in his ability to zero in on high stakes games that pay outrageously and win those.
Ever since he has been part of the poker circuit, and also been voted one of the funniest poker players on Twitter by Bluff Magazine in 2010. He also graduated from just playing poker to become someone known for outrageous and high stakes wagers. He was asked to return winnings earned in poker against Bradley Ruderman, a Ponzi scheme operator who had been imprisoned, in 2011 along with other players like Spiderman actor Tobey Maguire and actors Gabe Kaplan and Nick Cassavetes. On March 9 the same year, he beat Tom Goldstein in a race on the Las Vegas Speedway to pocket a massive $385,000.
Dan Bilzerian's Personal Life
Dan Bilzerian's personal life is lavish, to say the least, and fraught with risk. By the age of 32 he had already suffered 3 heart attacks. Lawsuits – some that he filed and many that have been filed against him – are part of his daily life, it seems. Thrill-seeking, women, guns – lots of guns – and the high life seem to be what Dan Bilzerian likes to indulge in apart from loose aggressive poker play and high stakes wagers that normal people can only dream of. He is said to have lost $2.3 million on a single coin flip once.
There have been numerous things about his personal life that stand out and fuel raging controversies. One of the most talked about is his Instagram account: with 20 million followers he is called the King of Instagram. The huge following comes from the outrageous photographs he posts with alarming regularity – be it about his enormous collection of guns strewn all across his house, his flamboyant partying with beautiful women, pictures of his pet cat and goat, shooting a SUV till it blew up, or just hanging out with Donald Trump.
His most recent brush with controversy was after the mass shooting in Las Vegas recently. As the shooting commenced, he ran away from there, filming himself and his surroundings as he ran and posting to Snapchat. His video and posts have been slammed by people, including Dakota Meyer, a war veteran and husband of Bristol, the daughter of Sarah Palin.