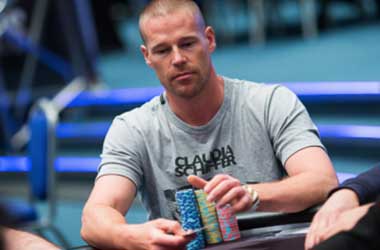 High stakes poker pros are known for blowing lots of cash in Vegas. Patrik Antonius is the latest poker pro that smashed his bankroll in Vegas after going through more than $500,000 in a massive $6,000/$12,000 Omaha 8 or Better game at Bobby's Room in Vegas over the course of three days. 
What started out as a great summer for the Finnish poker pro ended up being a disaster as he lost his entire Vegas bankroll while playing in Vegas in just 72 hours.
Antonius was initially winning in the smaller games, $2000/$4000 and $3000/6000, until he was hit by food poisoning which kept him out of the table for a few days.
When he returned, Antonius was dealt a series of bad hands and lost $100,000. That loss didn't stop him though. He continued to play as the games grew massively.
Three-time WSOP bracelet winner Scott Seiver was also present and tweeted about a $5,000/$10,000 Omaha-8 game which ran for a straight 20 long hours. Bobby's Room is popular for running high-stakes and nosebleed mixed games especially during the summer months. However, the games have changed strictly to Limit Omaha Hi-Lo 8 or Better, to the surprise of players and fans. 
Antonius struggled to recover his losses, only winning one hand the entire time during this game which last for five hours. When he left Bobby's Room, he came out empty handed.
Antonius Promises To Bounce Back
Losses of this magnitude would prove disheartening for most poker players, but the seasoned pros have learnt how to roll with the good and bad. Huge sums of money are on the line in high-stakes games, so it's not surprising if a player loses half a million in games as huge as the ones being played at Bobby's Room.
In a six-minute video on Instagram, the high-stakes veteran wore his heart on his sleeve, saying losing that kind of money causes the biggest adrenaline dump. It always hurts no matter how long you play the game and the feeling is more poignant when you hit the bottom. 
Antonius acknowledged that losing and feeling down is a part of playing poker because this is the only way for players to find out how strong they are mentally and how fast they can recover. The 38-year-old Antonius is an accomplished poker player who won the biggest pot in online poker history for $1,356,946. Antonius is expected to take a short break from the tables following his massive loss but he promised at the end of the video that he will soon bounce back.