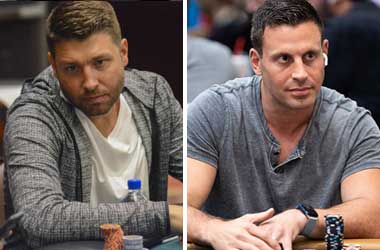 Summary
Both players made use of the U.S. government's PPP loans during the pandemic
The pair applied for the program although they are earning millions playing poker
The PPP loan system has been described as a "fraud"
Poker pros Jeremy Ausmus and Garrett Adelstein made use of the U.S. government's Paycheck Protection Program (PPP) during the pandemic, despite being two of the world's most successful poker players.
It emerged that the pair, who have millions in poker earnings, claimed five-figure PPP loans at the height of COVID-19.
Ausmus and Adelstein Took Out PPP Loans for "Payroll" Purposes
Ausmus and Adelstein became the subject of criticism on social media recently, with many users questioning the need for both players to seek help from the government when they can afford to spend tens of thousands playing poker and have amassed millions over the years out of playing the game.
Twitter user @ThePokerKaren first exposed Ausmus who claimed nearly $11,000 in PPP assistance from the government. The Twitter account said Ausmus blocked them when they tried to ask him about the PPP loan. Based on a screenshot of the loan information shared by @ThePokerKaren, the American poker pro apparently used the money for "payroll" for his business, Ausmus Poker LLC.
I would ask Jeremy Ausmus about this PPP Loan?
But, he has me blocked.
Did a poker player with 13 milly on their Hendon really reach out to the Government for help during the Pandemic?
Or is this just a bad read? pic.twitter.com/fwQpV7LbuP

— ThePokerKaren (@ThePokerKaren) October 30, 2022
Next on the hit list was Adelstein who is involved in the ongoing Hustler Casino Live (HCL) cheating scandal. The cash game specialist, considered the biggest winner in HCL history, availed of more than $40,000 in forgivable loans. Just like Ausmus, "payroll" was also listed as the reason for the loan. Whether both players actually used the money to pay for their "employees" remains to be seen.
BRUHHHHHHHHHHHHHHHHHH?
Now we may know why @GmanPoker needed that money back from @RobbiJadeLew pic.twitter.com/uzyKVqqXtx

— ThePokerKaren (@ThePokerKaren) October 31, 2022
Negreanu Chimes In
Other players may have also taken advantage of the program, but not Daniel Negreanu. The GGPoker Ambassador was asked by one commenter if he also took a similar step to pay for the salary of his personal assistant Patty Landis. The Canadian poker pro said he didn't and he wouldn't have accepted it if it was offered to him.
The six-time World Series of Poker (WSOP) bracelet winner also recently shared his views on the HCL cheating controversy, saying Adelstein was the "root cause" for everything and that he handled the situation terribly.
The PPP loan scheme was implemented from April 2020 to May 2021 and has been under scrutiny after it was revealed that around $76 billion of the $800 billion allocated for the program went to criminals who had exploited the system by coming up with fake companies and fake salaries.