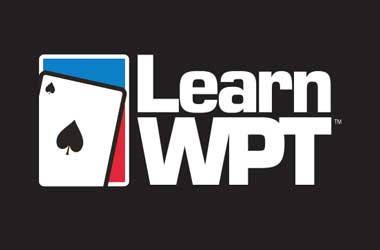 Learning poker comes in many different forms. You can watch videos, research relevant poker content online, register to a reputable poker training site, read books, or simply play the game on a regular basis to get the hang of it.
But perhaps one of the fastest, proven and tested ways to master the game is to learn from the experts, and allow them to guide you along the way.
Thankfully, a number of platforms nowadays have a dedicated team of pros on board who offer analysis and advice to aspiring players.
One of them is LearnWPT, a membership-based poker learning site and the official poker education platform of the World Poker Tour (WPT).
World Poker Tour
Recently, LearnWPT has launched a series of digital training events where students are given the opportunity to play in a single-table tournament, with their post-game performance being assessed by the instructors themselves. These events are called the "2-Day Digital Lab Experience", the first of them running on July 28-29.
The first day of the online training event puts students' skills to the test by allowing them to play for real prize pools on ClubWPT.com. This will give them some sort of motivation to bring their A-game into the single-table tournament as real money is on the line.
The unique format also simulates the real pressure happening during an actual tournament that players must handle well to arrive at the best decisions. LearnWPT Pros will watch the action and will give analysis and feedback a day after the tournament.
On the second day of the digital training, the students will communicate with a LearnWPT instructor via Zoom, during which they'll receive in-depth analysis and tips for improving their play and strategy.
The interactive video conference call will also enable students to ask questions about certain hands played at the tournament. The instructors will then give detailed answers based on their observations, and will identify rooms for improvement, along with guidelines on how to adjust game plans and strategies according to different scenarios.
Learn From WSOP Bracelet Winner
If you fancy talking to a pro and asking expert advice to become a better player, then this 2-day digital lab experience is worth every penny. For further details on how you can reserve a seat for upcoming sessions, you may visit the LearnWPT Live Workshops page.
The July 28-29 event is already sold out, but don't worry, as there are still other available dates for August. The Lead Instructor is no other than WSOP bracelet winner Nick Binger.