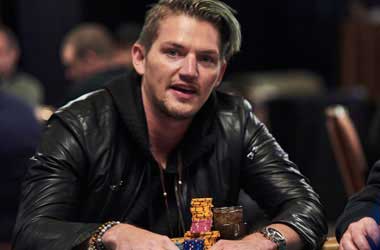 There are a number of reasons why the inaugural $25,000 buy-in PokerStars Players Championship (PSPC) in the Bahamas is going to be a special tournament. The online poker giant has invested millions by giving away free Platinum Passes throughout this year in an attempt to get players from all bankrolls and from all countries to show up and attend this event which is billed as the biggest poker tournament in history.
The latest players to be handed out free seats to the 2019 PSPC had their own stories, but one important decision saw the three of them cross paths and obtain Platinum Passes that will help them start their 2019 with a bang. What is interesting to note about this is that all of this started coming together on Christmas Day!
Jeremy Hilsercop received massive attention from the poker community and beyond on Christmas when he received a Christmas gift that he always wanted – a trip to the 2019 World Series of Poker (WSOP) courtesy of his wife Randi. It has always been Jeremy's dream to have a first-hand experience at world-famous poker series. A video showing an emotional Jeremy made the rounds online and touched poker fans all over the globe.
Meanwhile, Twitch poker streamer Arlie Shaban was close to completing the 12 Labors of Arlie challenge when PokerStars revealed the final undertaking he had to go through which was also the most difficult one. The Run It Up ambassador had to convince poker player Joey Ingram, a staunch critic of the online poker giant, to accept a Platinum Pass to the PSPC. If Shaban successfully completed the final labor, he would get a coveted Platinum Pass.
Ingram was put in a bit of a dilemma, given his past misgivings towards PokerStars. He was unable to make a decision so he asked for advice on Twitter.
We don't need to go into the tank on this one @Joeingram1 – Snap Call, let's make this a Christmas to remember for Jeremy and Arlie.

— PokerStars (@PokerStars) 25 December 2018
Ingram Makes Counter-Offer
Having learned about the viral story of Jeremy and his wife Randi, Ingram made a counter-offer to PokerStars — he would gladly accept the Platinum Pass, provided that Jeremy Hilsercop would also get his own Platinum Pass so that the three of them, including Shaban could travel to the Bahamas and take part in the tournament.
PokerStars did not think twice. The online poker giant immediately gave the nod and Hilsercop also received a Platinum Pass along with Ingram and Shaban. Heartwarming stories like this only prove that there's more to poker than just competition and entertainment. It can also be an avenue for kindness and generosity.
We just got our passports!!! We pick them up at 12:30!!! Yasssss thank you @Joeingram1 @PokerStars @PokerStarsBlog @CMONEYMAKER #poker #Bahamas @JHilsercop pic.twitter.com/Ozc2M0FSmO

— Randi Hilsercop (@Randi_heatlifer) 28 December 2018