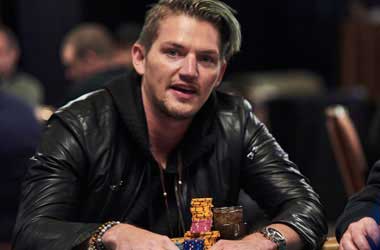 Poker player and YouTuber Joe Ingram spoke up on behalf of a number of players at the 2018 World Series of Poker (WSOP) when he came out with a video complaining about the terrible attitude of salespeople manning the electronics booth at the Rio.
The 2018 WSOP is back at the Rio this year and so is the electronics company iGadgets Planet which offers Bluetooth headphones and cellphone chargers to WSOP players every year.
But this time around, iGadgets Planet has created a lot of unwanted attention as Joe Ingram has called out the firm and its representatives who have been accused of alleged sexual harassment and bad attitude.
The electronics booth has been present at the WSOP for a couple of years now, and many poker players have constantly been raising their concerns about the aggressive sales technique of the salespeople manning the place. According to Ingram, he has talked to a number of poker players at the Rio and many are complaining that the salespeople are yelling out their products down the hallway and resort to mockery and sarcasm if a player ignores them. The women have it worse and experience cat calls every time they pass by the booth.
joeingram1
Women poker players who have been going to the WSOP to play such as Kristy Arnett Moreno, Sasha Barrese, Joanne Lewis and Linda McCabe are some of the many women who have echoed Ingram's sexual harassment allegations against the electronics salespeople.
In a statement, McCabe said,
I'm at the WSOP and walk down the hall, careful to not make eye contact with these guys, and try to ignore their comments as I go by. Doesn't matter—they still shout at you and say sarcastic and derogatory things. It is a poor representation of the WSOP.
Poker Players Want The WSOP To Take Action
Many players also went to twitter to call WSOP officials such as Simone Ricci to do something about the booth since it's been a problem at the Rio for the last few years. Some also called out the substandard products and the unfair pricing, with one player bringing his chargercase back for a refund after the battery run out after less than 2 hours when the salespeople promised it
would last for 2 to 3 days.
In response, Seth Panasky, Caesars vice president of corporate communications, said that he have had a word with the people at iGadgets Planet and have asked them to tone down their sales pitch at their booth. They have also installed additional security cameras in the hallway to monitor the alleged sexual harassment claims.
Mark Agarunov, owner of the booth, has also responded to the criticisms and claimed that the sexual allegations are "lies, 100 percent." He even dared Ingram to go with him to the police and file a report against his employees if they are indeed true.