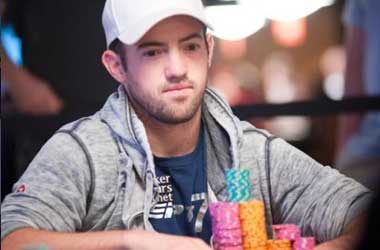 Joe Cada has proven yet again that he is one of the best poker players in the world by having a phenomenal run at the 2018 World Series of Poker (WSOP). Cada won the WSOP Main Event in 2009 and he has won three more bracelets since then.
Joe Cada received a lot of attention after he made it to the final nine of the 2018 WSOP Main Event and many were wondering if he would be able to pull off a double and win the event again. Cada did not achieve that feat as he finished in 5th place and took home $2,150,000. He continued his run of good play by winning Event #75 which was the Closer No-Limit Hold'em which had a $1,500 buy-in.
The playing field reached 3,120 players at this event which ran for four days and the first day saw three starting flights. Around 331 players survived to start day two. Cada's performance during the grinders was excellent as he rarely went all-in and was never at risk of being busted out.
Poker Central
Cada was not the only big name who participated. Benjamin Zamani, who has two WSOP bracelets, and Leif Force both participated but they were eliminated in 22nd and 21st place respectively. Other well-known players like Chris Conrad, Tristan Wade and Martin Finger didn't make the cut – with Conrad being taken out by Cada when Conrad had to go all-in.
Cada Wins Fourth WSOP Bracelet
The final table had Cada bringing in four million chips into the game, which gave him a solid lead. This was especially after he took a major portion of Brayden Gazlay's chips. After the table was cut down to nine players, everyone took a dinner break and decided to continue the game late in the night.
When the game continued, the players started dropping out one by one. Joshua Turner left first, followed Gazlay who was finally eliminated. The finale came down to Cada and Paawan Bansal and there was no stopping Cada who went on to win his fourth gold bracelet and walk away with a $612,886 prize.
In a statement, Cada said
I feel amazing. What a way to cap it off! I've been running good and deep in every tournament and the tournaments I busted, I feel good about how I played. I haven't played many tournaments this summer, and I'm kind of upset that I didn't play more, but it feels good to close it out