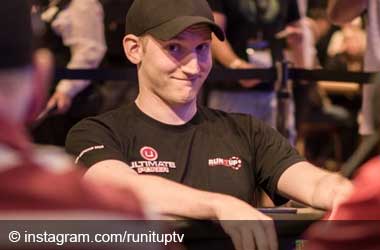 Poker streaming sensation Jason Somerville returned to streaming live poker after he took a break that lasted well over a year.
A one-time regular in the streaming poker community, Jason has made just a couple of appearances in the past year and a half to do a bit of commentary but it looks like he is now back in action.
He decided to make his return a surprise and it's a good thing for him that he didn't advertise his comeback as things didn't exactly go smoothly.
Jason's return to live streaming got off to a rough start when he inadvertently showed the wrong table for about five minutes as he commented on the action that viewers couldn't see. He fixed the issue but the same thing happened a few hours later which led to some mixed reactions on Twitter. One tweeter jokingly commented that he was enjoying watching the action at the other table more while another asked why he was watching an aged and rusty streamer
runitup
Turned Things Around
It might have taken Somerville a little bit of time to shake off the rust as he was able to make a successful week out of his embarrassing start. He found himself at the final table of a $215 tournament where he finished in fifth place and won $1,500. The next day, Jason entered another $215 tournament where he ended up finishing in second place for an $8,537 payday.
Somerville has won over $3.5 million in live tournament action as well as a World Series of Poker (WSOP) bracelet in 2011. He will need to fine-tune a few things if his return to live streaming is going to be a success. Jason Somerville is now paying a lot more attention to his new project which is the Run It Up Studios in Las Vegas which was conceived to get up-and-coming poker streamers off on the right foot with their streaming. He hopes that his knowledge and experience with live streaming will help poker grow as it reaches a new audience.
More To Come
Somerville looks like he's jumping back into live streaming with both feet and fans should expect to see a lot more of him this month. Somerville has plans to compete in the upcoming PokerStars World Championship of Online Poker which will get underway on September 2nd and run through September 17th