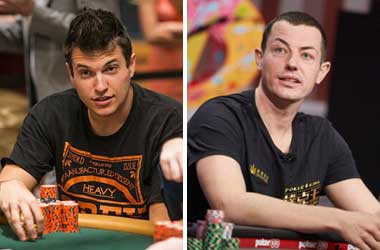 There's a lot of live poker and online poker action taking place throughout the world and its hard to keep up on all of the tournaments.
When it comes to high stakes poker action, one tournament that is getting a lot of attention is the WPT Heads-Up Poker Championship which is running on PokerKing.
The tournament has a 32 player cap and a buy-in of $25,000. Some of the biggest poker stars in the game are taking part in this tournament. The first round had some interesting matches with the most interesting being Doug Polk vs. Tom Dwan.
These two are not only great high stakes poker players but don't like each other as Doug Polk has openley accused Dwan of being a fraud.
World Poker Tour
Polk called out Dwan in the past to duel him in a game of poker but the offer wasn't not taken up. They were forced to compete based on the WPT Heads-Up Poker Championship draw where the format called for three matches to take place before a winner is announced.
Polk has never been shy of saying his piece and came in to the game under a little bit of pressure as he had a point to prove after talking it up over the years. Dwan on the other hand has preferred to remain silent for most of the time and has not responded to the various jibes that Polk has made towards him.
Tom Dwan had a great first round and ended up taking a 1-0 lead. However, Polk bounced right back in the next game to make it 1-1 and set up an interesting final game. Polk had sixes in the third game while Dwan had deuces which let Polk take the game and move on to the second round. Dwan had to exit the tournament after his loss and will have to take his loss to Polk with a pinch of salt.
Top Players Battling It Out
The competition only gets tougher as you move on to the second stage of the tournament. Polk has to take out Patrik Antonious in the second round if he is to keep progressing in the tournament which will finish on June 22.
Some of the other top players who have made it to the second round of the tournament include Phil Ivey, Dan Smith and Daniel Dvoress.