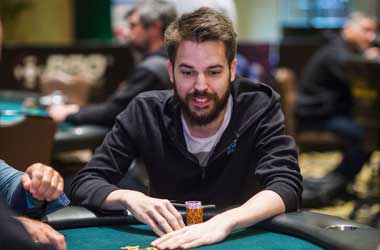 There are literally hundreds of mobile poker apps available in the Apple and Google Playstore and all of them claim to offer something special to poker players.
When it comes to choosing a poker training app, it can be quite a tedious task to sort through the long list of apps and find one that you can rely on and truly improve your game.
One app that you should consider trying out is the new DTO poker app that was launched by German high stakes poker pro Dominik Nitsche. There are a number of things that make this app different from the rest of the apps out there.
For one, it is not every day that a poker pro with Nitsche's credentials releases a poker app. The German poker pro has amassed over $18.5 million in prize money and sits in 4th place on Germany's Al Time Money list and in 28th place on the All Time Money list. So when Nitsche decides to offer his strategies and tips via a poker training app, it is a great opportunity to tap into the mind of one of the best high stakes poker players in the world.
There is no shortage of poker courses and training workshops in the market. The ones that are generally cheap or affordable tend to have basic or average training programs whereas the training courses that have wealth of information are very expensive and make it difficult for the majority of poker players to get their hands on it.
The DTO poker app has a monthly subscription plan and the basic pack starts at $10, making it very affordable for players. It provides unique insight and tips that both amateur and high stake poker pros can take advantage of. The poker app is being promoted as a 'GTO' (Game Theory Optimal) app that provides help in-tournament and allows you to learn while you are on the move.
DTO Poker
Practice Makes Perfect
Nitsche says that he did not focus on developing a poker app but it happened by accident. He was coaching Markus Prinz and looking at GTO solutions when Prinz suggested that this was exactly the coaching that poker players all over the world needed and encouraged Nitsche to go ahead and develop a poker app.
The two met with developers a few days later and decided to launch the DTO poker app. This app will give players the opportunity to practice and quickly learn from their mistakes. Do check out the DTO app to see how you can improve your game.