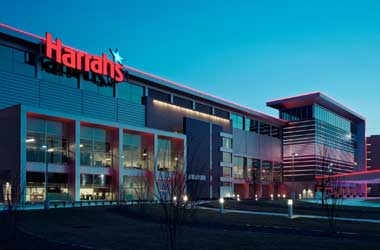 Harrah's Philadelphia Casino & Racetrack formally inaugurated its new poker venue aptly named as the World Series of Poker (WSOP) room.
The poker room was already open for business to customers way back February, but Harrah's management decided to hold off the grand opening until April 26.
The old poker room was situated a floor below the main betting area where race track betting used to take place. The casino decided to revamp and shift its poker room to make things easier for poker players.
Harrah had enlarged the poker room and added a separate bar and other conveniences for its customers to get all their needs met without having to leave the poker room.  
The new poker room sports the WSOP brand and has 27 poker tables with a display showing the availability of the tables on hand.  Harrah's will look to host a number of poker tournaments in the coming months and can add a 28th table on a stage if required.
It is interesting to see that Harrah's was willing to invest and revamp its poker room. A number of poker rooms throughout the country have closed in recent years due to the lack of poker players showing up and also because the player spend amounts have reduced. Many casino operators have made the decision to close down their poker rooms and allocate this space to slot machines which bring in more revenue to the house.
All Poker Players Welcome
There were three main amenities that Harrah's wanted to introduce at this facility in order to make the gaming experience more memorable. The first was the introduction of sports betting, the second the launch of an interactive social and gaming lounge called Topgolf Swing Suite and the third was the opening of the WSOP poker room.
Harrah's decided that it was time for a bigger and better poker room to be opened and it will be interesting to see how the poker market responds to the newly opened WSOP room.
While the new poker room has the World Series of Poker brand attached to it, there are no restrictions on entry as of now as all players are welcome. Poker players have the option to engage in no limit bets as well as play games which have minimum and maximum bets attached to it. It all depends on the poker variants they want to play and the tables they decide to play at.