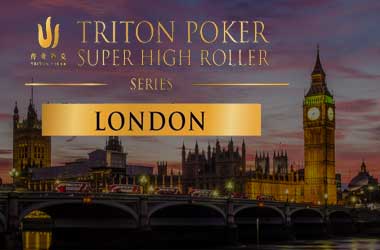 The first-ever Triton Super High Roller Series London was a massive success, with the tour hosting the biggest event in poker history, The Triton Million – A Helping Hand for Charity, which featured a buy-in of £1,050,000 ($1,325,351).
What made it even more stellar and memorable was the introduction of an interesting fresh format in relation to the line-up of participants.
Poker tournaments which have very high buy-ins usually take place with a set number of players. The decision on who should fill the seats is normally left up to chance, as tournament operators continuously hunt for new and better ways of approaching the different elements of the game.
The formats adopted by some super high rollers in the past involved reserving seats for poker-playing individuals from the business world, effectively attracting high-roller pros due to the huge value on offer. 
Triton Poker

In 2016, Triton events adopted the "recreational only" model, but they ended up drawing a smaller number of entries than promised. This year, the team at Triton Poker tried out a different approach – the Triton Million field was filled out by a 50-50 balance of recreational and professional players, ultimately attracting a total of 54 participants which in turn generated a massive £54 million in total prize pool. 
The Triton Million London series was an invite-only event, participated in by wealthy businessmen (classified as recreational players), alongside their appointed guests (the top pros). One more unique element incorporated into the format was that the field was divided between the recs and pros, through to Level 6 where the two groups combined via a redraw. The set-up received generally favourable feedback from the participants themselves, including pro-rec duo Dan Smith and Bill Perkins. 
Triton Million London – A Big Success
Dan Smith who took home £7,200,000 after finishing third in the event, admitted he had some doubts when he first learned about the new format, but he was impressed with how things turned out, especially as the event managed to draw a huge field compared to the Big One for One Drop in 2018. The icing on the cake was the millions raised for charity.
Bill Perkins was also happy with the format saying the 50-50 idea was very appealing. Perkins said the new format brought businessmen out of their shells as they gained a whole new level of confidence that helped them reach the final table. Perkins has one suggestion to make things better. He believes the event can attract more recreational business people by lowering the buy-in to between $300,000 and $400,000.