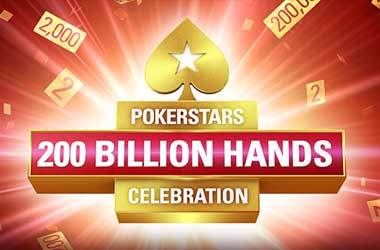 PokerStars is now on its way to dealing its 200 billionth hand and the biggest online poker website in the world wants to make sure everyone gets in on the celebration by running a series of promotions.
The online poker giant dealt its first hand in December 2001, reaching 10 billion in May 2007. In June 2013, it celebrated 100 billion hands.
This year, PokerStars is unlocking another huge milestone, as it expects to deal its 200 billionth hand on May 1. Based on calculations performed around 17.5 billion hands are dealt by PokerStars each year.
As part of the 200 billionth hand celebrations, every player being dealt into the 200 billionth hand, will be entitled to $10,000 cash, covering both cash games and tournaments. Players shouldn't worry about winning the hand or folding preflop as the $10,000 is all theirs. In addition to this, more exciting promotions are in store for PokerStars players as indicated below.
Cash Games
Between 12:00pm and 5:00pm ET, PokerStars is giving away surprise chest to cash game players, randomly dropped onto tables. The player who wins the hand earns the right to open the surprise chest which offers a prize that is 20x the big blind of the particular table it is dropped at.
Do take note of the times the surprise chest will be dropped. You have until tomorrow (April 30) to open the chest.
Mega Freeroll
PokerStars will also host a $200,000 Mega Freeroll on May 1 at 2:00pm ET. The requirement is rather simple to meet – you just need to play one or more hands at any real money table before the scheduled freeroll event. You will then be rewarded with a chest containing the freeroll ticket inside. On May 1, all you need to do is to register for the $200,000 Mega Freeroll.
PokerStars will also be dropping Spring Championship of Online Poker (SCOOP) tickets worth $30,000 throughout the freeroll tournament. There will also be a 200 Billion Hands Celebration Wheel which will give players the chance to win Sit & Go tickets, a freeroll ticket bundle, and $2,000 cash. Players only need to play at least one hand in order to receive a free spin ticket. The promo runs daily until May 1.
Milestone Tournaments
Tournament players are not left out as PokerStars is giving away up to $215 worth of SCOOP tickets. To avail of this promo, they should enter at least one of the 56 daily tournaments and four major tournaments held every Sunday, such as the Sunday Million.
The promotions are currently running at PokerStars.com, PokerStars New Jersey and PokerStars.co.uk. They are also available at PokerStars' European segregated market as well as PokerStars Italy.