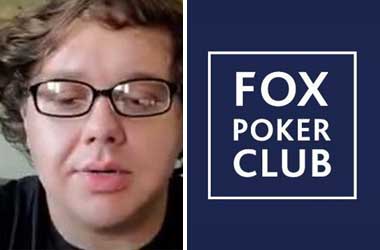 Fox Poker has been in business since 2015 and has a loyal set of players from around the world.
The real money online poker site ran a rather quiet operation for all these years but has now made it into mainstream poker media after it closed down suddenly.
A now deleted post shed more light into what went wrong at Fox Poker. The post which was made by one of the admins at Fox Poker claims that owner Andy Troumbly started to quietly help himself to the funds in the Fox Poker kitty and use it for himself.
Andy Troumbly was responsible for handling all financial activities at Fox Poker and hence managed to get away with his stealing for quite some time. The other admins started noticing something strange going on with the site once players started complaining that their deposits were not being processed on time.
The withdrawal policy at Fox Poker allowed players to withdraw up to $17,000 per month. However from May 2021 to August 2021, some players were only able to withdraw a max of $300 a month. When they checked with Troumbly about the restricted withdrawal limit, he fed them a bunch of lies month after month and most of them believed.
The admins started to suspect something was wrong and when they dug into the numbers, they found Troumbly was skimming funds and using it for his own needs. Once they made the post on social media outing Troumbly, he released a 32 minute video on YouTube explaining what went wrong and admitting to what he had done.
Troumbly created multiple fake accounts and then used the deposit money and winnings to fund these accounts. Troumbly has since deleted his Facebook account and gone underground.
Players May Not Recover Funds
This is not the first time that an online poker site has gone rogue and probably will not be the last time that an online poker site defrauds players. The admins claim that when they found Troumbly taking money, they kept silent as they were hopeful that the lack of cash would get sorted out in the months to come.
When the deposit process came to a near standstill this month, they realized that the $1.5 million deficit wasn't likely to be recovered anytime soon. Poker players are now concerned that they may never recover their funds from Fox Poker.