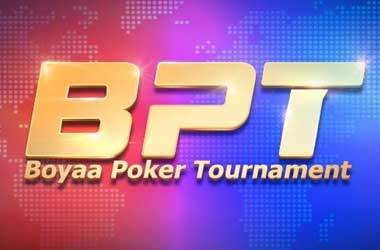 The 2019 Boyaa Poker Tournament (BPT) Asia has officially started. Organized by card and board games developer Boyaa Interactive, this year's tournament features a guaranteed prize pool of $160,000 (5 million NTD).
Players from different Asian countries and regions are expected to take part in the series which is now in its fourth year. Online qualifiers kick off in mid-April.
How to Enter
Players may enter the series through the Boyaa Texas Hold'em App which is available for download. They can also take part in an offline satellite tournament for a chance to win their way to the 2019 BPT Finals happening on June 28 – July 3.
The final battle takes place at the Taiwan Chinese Texas Hold'em Poker Association, the country's biggest poker community.
BoyaaPokerTournament
BPT Commitment
This year, players have every reason to get pumped up. Aside from the Main Event, the jam-packed BPT Asia schedule will consist of plenty of side events for all players to enjoy, with a variety of prizes. This is in line with Boyaa Interactive's commitment to continue to innovate and come up with new breakthroughs that will take their gaming experience to a whole new level.
The inaugural BPT event was held in Asia's largest gaming hub Macau in 2015. The tour became a highly successful annual event, covering as many as 30 countries across the Asian continent. The tournament also attracts poker players worldwide with a cumulative 20 million players participating in the series since it started four years ago.
BPT Challenges
Boyaa Interactive, was founded in 2004 by Zhang Wei. In 2013, the firm was listed on the Hong Kong Stock Exchange and went on to become a global online games developer – but not without challenges.
Last year, Boyaa Interactive was dealt a huge blow, when China launched an online poker app crackdown which took a toll on the company's operations. The company owns the popular Boyaa Texas Poker game app, with millions of registered accounts.
Following a Chinese ban on online poker applications in April 2018, Boyaa Interactive suffered a drop in its year-on-year revenue. In September, its Chairman and CEO Zhang Wei was sentenced to 12 months behind bars after being convicted of bribery charges. Zhang immediately stepped down from all of his senior management posts as CEO, Chairman of the board and Chairman of the Nomination Committee.
BPT – Road to Recovery
Boyaa Interactive, which now runs under the leadership of Dai Zhikang and Ms Tao Ying, hopes to achieve full recovery by the end of the year.
The 2019 Boyaa Poker Tournament is a great way to put the past behind and once again promote the game of poker.