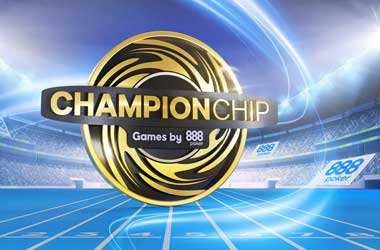 Summary
The series awarded nearly $550K in total prize money, smashing its $500K guarantee
About half of the 31 events suffered overlays but 888poker was able to make up for that in other tournaments that performed well
The series was dominated by Brazilians, with the Main Event attracting the largest field
888poker's ChampionChip Games, a series designed for low-stakes players is now done and dusted. The series has turned out to be a big success for 888poker, with the festival awarding almost $550,000 in total prize pool despite suffering overlays in some of the events.
888poker ChampionChip Games – Facts & Figures
The ChampionChip Games featured a guarantee of $506,200 across 31 summer games-themed tournaments, including 25 numbered events which ran from August 28 to September 7. Not all events managed to hit their targets, but those that did exceeded their guarantees by huge margins.
The final figures show the festival pulled in a total of 31,280 entries (including 24,275 unique entries) to generate $547,939 in total prize pool. 888poker needed to add the required amount to meet the guarantee in 16 out of the 31 events which recorded a combined overlay of $19,964.
But the other 15 tournaments performed well and went beyond their guarantees by $41,739. Deducting the overlay from the total prize pool generated, 888poker's ChampionChip Games was able to surpass its initial guarantee by almost $22,000, with more than $50,800 in collected fees.
Main Highlights and Big Winners
The series culminated in the Main Event which came with a $200,000 guarantee. The tournament was able to go beyond that figure after awarding $212,850 in total prizes to the top finishers. A player from the UK walked away with the title and top prize worth $26,202.
The Main Event may have awarded the biggest prize money throughout the festival, but several other events performed better in terms of smashing their guarantees, including Event #10: Shooting (PKO 8-Max) which surpassed its $10K initial guarantee by almost 50% after attracting 991 entries. Event #4 and Event #5 also did well, exceeding their respective targets by more than 35%.
Ten of the 31 games drew over 1,000 entries, and as expected, the Main Event attracted the largest field with 3,870 entries, while the Micro Main Event and a pair of Made to Amaze events also pulled in more than 1,500 entries.
Brazilians ruled the series, winning 10 titles in total. Among them was "BritoPoker22" who took down two events – the $5 Made to Amaze event, and the $22 Marathon Deepstack.