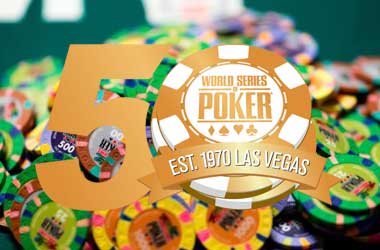 The 2019 World Series of Poker (WSOP) has created history with its brand-new 'Big 50 event', which is underway at the Rio All-Suite Hotel and Casino in Las Vegas.
For the tournament's 50th anniversary, the WSOP's top brass wanted to attract as many players as possible.
So far, they've been successful in achieving that goal as the Big 50 is now officially the biggest poker event in history, with an estimated 24,000 players participating.
The Big 50 is a $500 buy-in tournament, with the entire initial entry going directly into the prize pool.
The event has four starting flights running from May 30 until June 2. Players begin with 50,000 chips, played at 50-minute levels to coincide with the "50" theme. While it was initially announced that players will be competing for a $5 million prize pool, that amount has now been surpassed as the number of players keeps going up.
For flights A and B, the total entries recorded were 6,095 and 5,972 respectively. Both flights generated close to $3 million in total prize pool, with a little over 1,800 players from both flights finishing in the money. Figures have continuously swelled until the last starting flight which took place on Sunday.
Dealing With Challenges
With a $1 million first-place prize plus a gold bracelet up for grabs for a $500 buy-in, thousands of players from different parts of the world flocked to the Rio to take part in the Big 50. Organizers have found a way to accommodate all the participants by cancelling some of the Daily Deepstacks and setting up tables in every corner of the venue.
To accommodate all players, rooms have been made available in the convention center, while poker hands were also being played at tables placed in the hallways, in a vacant bowling alley and in other locations at the Rio. All starting flights have sold out and late registration seats have been issued to players who want to enter or re-enter. Minor changes have been made in relation to the schedule of the starting flights to allow as many players as possible to join.
The inconveniences and logistical issues sparked complaints from some players, but others have been understanding and were thankful they were given the opportunity to take a shot at a $1 million bracelet event.
While WSOP Vice President Jack Effel admitted running an event of this magnitude comes with many challenges and minor issues, he assured everyone that they are doing their best to fix the problems and prevent them from reoccurring. Effel said they've been striving to stay ahead of the curve to ensure a smooth process.
The winner of the 2019 WSOP Big 50 will be determined on the final day, June 7.