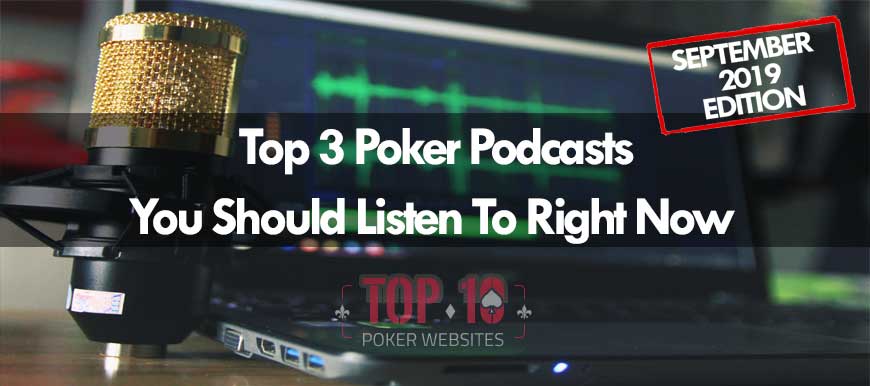 Podcasts have grown in popularity over the last few years and now come in many different forms. They can be found in plenty of niches and offer a fun way of sharing valuable content to audiences.
For poker players and fans in particular, podcasts are a huge hit, becoming an exciting go-to resource for those who want to learn effective strategies or simply want to be updated with the latest happenings in the poker world.
If you're looking for the best podcasts that tackle everything poker, we have compiled a top-three list that you might want to check out.
The Official Red Chip Poker Podcast
Hosted by Zac Shaw, the Red Chip offers some tips and tricks to hone your skills as a player. These tips are often provided in a series, with some of the most popular poker coaches also dropping by the show to share what they know.
Red Chip discusses the various poker formats, but their topics of discussion aren't confined to that as they also tackle live poker games. The podcast is available for download on iTunes, Spotify and YouTube.
Thinking Poker
This podcast has something in store for all poker fans out there. Hosts Andrew Brokos and Nate Meyvis do some interesting interviews with professional players and coaches, and also talk about strategies and the latest news in the poker sphere.
Both Brokos and Meyvis are professional poker players with ample knowledge in the game. Their accumulated tournament winnings are also something to be proud of. Thinking Poker is great for beginners and for those already playing the game and have the skill but want to move up the ladder and become an absolute professional.
TwoPlusTwo PokerCast
When you embark on a professional poker career, your focus is to always finish in the money. To be able to win big in tournaments and eventually succeed in poker, you need to adopt an effective winning strategy to outclass your opponents. The TwoPlusTwo PokerCast will help you with this goal.
TwoPlustTwo PokerCast is considered the largest and most trustworthy poker strategy resource you could find online. The podcast involves a mix of multiple forums, which serve as avenue for poker players to share ideas, exchange experience and help each other out.
You can still find a lot more podcasts on the internet that can be downloaded on iTunes and YouTube. The key is to find the podcast that fits your personal preference and a good way to start is checking out the three we listed.