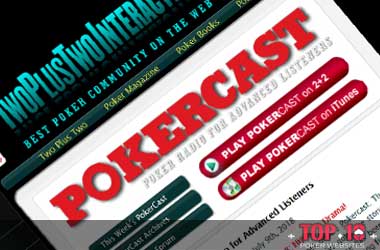 Poker players are always looking to learn and better their game by watching poker videos and listening to poker podcasts. The popular TwoPlusTwo poker forum has one of the most popular poker podcasts with 'PokerCast'.
Since making its debut on January 2, 2008, Pokercast has featured some of poker world's most popular personalities like Joe Ingram and Mike Sexton as well as some of the best players in the world. Hosts Mike Johnson and Adam Schwartz have had Daniel Negreanu, Fedor Holz and Phil Ivey on the show.
Perhaps the most memorable podcast came in 2014 when they had Howard Lederer appear as their guest.
That particular episode received over 4 million downloads. Johnson stepped aside in 2014 which made way for Terrence Chan to take over the mic.
Pokercast followers will be disappointed to hear that site owner Mason Malmuth has just announced that the popular podcast has been put on indefinite hold. Malmuth said that it is a matter of finances and it no longer makes sense for him to keep the program going. Aside from acknowledging that there has been a downturn in poker's popularity in recent years, Malmuth also pointed to Eric Holder's Justice Department which made the decision to force online poker sites to shut down in 2011 during the Obama administration. What is popularly referred to as 'Black Friday' in the industry caused severe damage to the industry and many poker sites are yet to recover.
After taking over from Johnson on the podcast's 330th episode, Terrence Chan was a big part in keeping the show going right up to the end when the podcast aired its final episode on July 9th while the annual World Series of Poker was in progress. Till date, a total of 499 podcast episodes have been aired.
Possibility Of Pokercast Returning
Fans of the show voiced their sadness upon hearing the bad news but they have also reflected on some of the great memories. Adam Schwartz, who hosted the show for over a decade, thanked Malmuth for his unwavering support during the show's decade-long run. He then went on to thank everyone else responsible for the podcast's success such as producer Ross Henry.
In a statement, Malmuth said
Now suspension doesn't mean that it is over for good, it could come back some time in the future with the same hosts or different hosts. But it does mean that PokerCast show #499 will be our last show for now. I know that many of you, including those of us in TwoPlusTwo management, are highly disappointed to hear this, but all good things come to pass.