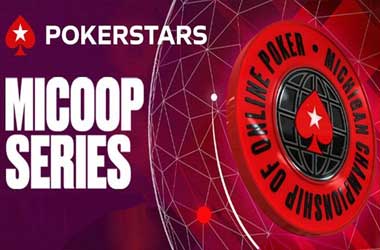 Michigan poker players are in for a busy September as the Michigan Championship of Online Poker (MICOOP) will take place from Sep 10 to 27.
PokerStars has put together a list of 68 events that will take place during a 17 day period and offer $1.5 million in guaranteed prize money. PokerStars MI is running a number of special promotions for the 2021 MICOOP.
PokerStars is looking to make a mark in the Michigan poker market and has put together an impressive list of events that appeal to poker players with different bankrolls.
There are also a number of different poker variants on offer during the festival which includes NLH, Battle Royale tournaments, Progressive KOs, ZOOM and some mixed game contests.
The average buy-in across events is just over $130 while the average guaranteed prize pool is around $22,000.
Top 3 events at the 2021 MICOOP
We have put down three key events for low stakes, mid-stakes and high stakes poker players below. To see the full list of events, check out PokerStars MI.
Low Stakes Players
Casual poker players and those with limited funds should try their hand at the following events. Check out the $30 Turbo Warm Up event on Sep 10 which has a $6,000 prize pool, then try your hand at the $30 Battle Royale PKO Turbo on Sep 13 which has a $10,000 prize pool and finish with the $30 NLHE which runs on Sep 15 and has a $12,000 prize pool.
Mid Stakes Players
Players who don't mind going a little higher have a lot more options. You should check out the $100 Big Kickoff on Sep 11 that has a $50,000 guaranteed prize pool, then try the $100 Sunday Special on Sep 12 that has a $75,000 guaranteed prize pool and finish with the $100 Bigstack Marathon which takes place on Sep 19 and has a $25,000 prize pool.
High Stakes Players
High stakes poker players also have a nice selection of events to choose from. Try the $500 PKO High Roller on Sep 11 followed by the $500 6-Max High Roller on Sep 12 and the $500 NLHE High Roller on Sep 19. All three events have a guaranteed prize pool of $40,000.
The highlight of the 2021 MICOOP will be the $300 Main Event which has a $100,000 guaranteed prize pool.