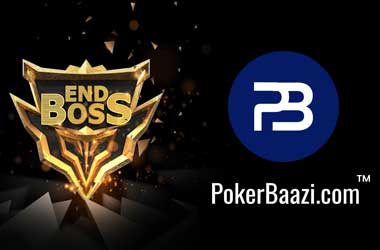 PokerBaazi, one of the top online poker sites in India has announced a second edition of its EndBoss tournament. EndBoss 2021 will once again feature a 5 crore guarantee and run from Oct 20 to 24.
PokerBaazi came out with its EndBoss poker tournament in 2020 just before the COVID-19 pandemic hit.
The first edition of EndBoss ran in April 2020 and created a record for being the biggest standalone poker tournament in India. It came with an 11,000 rupee buy-in and a 5 crore guaranteed prize pool
PokerBaazi would later confirm that a total of 5,847 players registered for EndBoss 2020 and pushed the guaranteed prize pool up to 5.85 crore rupees. The winner Abhishek Maheshwari took home a check for 1 crore rupees. Over 580 players cashed out during EndBoss 2020 and the top 10 finishes took home 6 figure payouts.
PokerBaazi has now confirmed that the second edition of EndBoss 2021 will also have an 11,000 rupee buy-in and a 5 crore guaranteed prize pool. PokerBaazi decided not to raise the guaranteed prize pool even though it expects an even bigger market response to the 2021 edition.
PokerBaazi
While poker players from around the world will be heading over to the 2021 World Series of Poker (WSOP) in Las Vegas, Nevada most of the top poker players in India will stay at home and look to take part in EndBoss 2021. The competition is going to be very strong at EndBoss 2021 as PokerBaazi is expecting a mix of aspiring poker players and elite poker players to take part as the buy-in is very affordable.
Satellite Events For EndBoss 2021
PokerBaazi understands that while the buy-in is affordable for most poker players, there will be some players who will struggle to come up with 11,000 rupees. This is why PokerBaazi is running daily satellite events that will give players a chance to qualify for EndBoss 2021.
The daily satellite events have a buy-in of 550 rupees and have been running since 01 September. Players who win a ticket from these satellite events will be automatically registered for EndBoss 2021.
Indian poker players who are looking for that big payout, should try their hand at EndBoss 2021 as over 500 players are likely to finish in the money yet again. If you would like more information on EndBoss 2021, check out the PokerBaazi website.