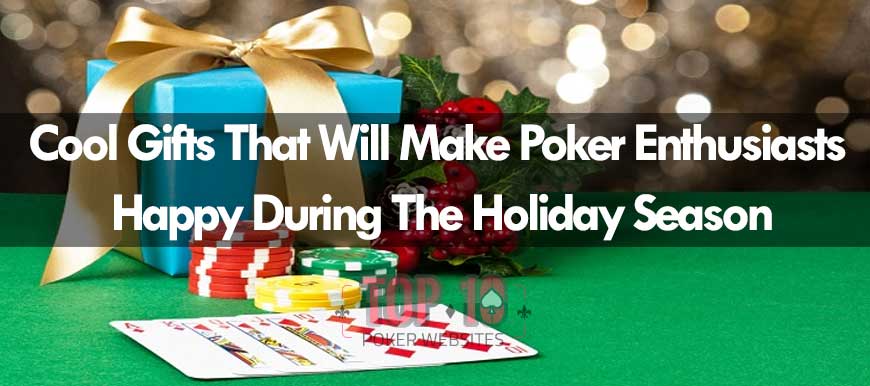 The holidays are fast approaching with Thanksgiving around the corner and then a few days later we enter the Christmas season. It's that time of the year again when you have to think about what gifts you are going to get your loved ones this season. If you have family, friends or loved ones who are poker enthusiasts, read on as we list some cool gifts that you can surprise them with.
The best gift you can probably get for any poker player is a seat to the 2020 World Series of Poker (WSOP) Main Event as it's the dream of just about every poker player to win the WSOP Main Event. However, that's realistically not possible for most people as that will set you back by over $10,000. However, these poker gifts are a lot more affordable and should please your loved one.
Poker Books
Any poker enthusiast who is serious about the game knows that they need to keep learning to get better. Thus, if you are on a tight budget the best gift is a poker book which you can purchase from Amazon or D&B poker. Some of the books that you can get include Mastering Mixed Games by Dylan Linde, Modern Poker Theory by Michael Acevedo and FossilMan's Winning Tournament Strategies by Greg Raymer.
Poker Cards
If you find that the books are a little too expensive for your budget or if your 'poker lover' isn't a big reader, then you should think about getting them a set of playing cards. Not just any set of playing cards but a custom set of poker cards from thepokerdepot.com which even allows you to customize the cards from scratch.
Poker Chips
If you and the family play a lot of poker home games, then you should think about getting a set of customized poker chips. Don't be thrown off by thinking that this will cost you a fortune as there are coupon codes out there that you can use at a site like pokerchips.com that will give you a great deal on your own set of customized poker chips.
Poker Training Course
Clearly one of the best gifts that you can gift to a poker enthusiast is a quality poker training course. You can purchase it online and then give them the login details in a gift card. You can find some good ones at Advanced Poker Training.