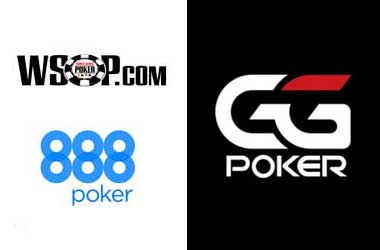 Summary
There are signs WSOP could be looking to deploy the GGPoker software for its US sites
WSOP's US platforms are currently powered by 888poker
A WSOP-GGPoker US partnership is possible, but won't happen anytime soon
The WSOP has established a strong foothold in the US regulated online poker market, being among the first online poker rooms to go live in the country.
Additionally, it was the first operator to launch shared liquidity in the country, via its New Jersey-Nevada network, with both states currently part of the Multi-State Internet Gaming Agreement (MSIGA). That network is set to expand, with the potential addition of Michigan.
WSOP-888poker US Partnership Could Eventually End
WSOP's US operations have been a massive success so far, and that's made possible through its long-standing partnership with 888poker. All of WSOP's US platforms in New Jersey, Nevada, and more recently, Pennsylvania and Michigan, are powered by the 888poker software. But there are indications the WSOP-888poker alliance could end at some point in the future, especially with the recent developments in Ontario.
WSOP launched in Canada's largest province in September 2022 using the GGPoker software. That's despite having an existing software partnership with 888poker in the US. This has led to speculations the WSOP could be eyeing to fully adopt the GGPoker software across all of its markets, including the US. This could be one of the main reasons why the WSOP sites in New Jersey and Nevada have yet to use 888poker's new Poker 8 platform.
WSOP Could Switch to GGPoker as US Software Partner
The Ontario launch wasn't the first time the WSOP and GGPoker have worked together. In fact, both entities have been partners since 2020, when GGPoker hosted the first WSOP Online Circuit Series. The rest is history.
GGPoker's software is also one of the best in the market, with unique features and innovations that appeal to casual players, including tournament staking, an AI coaching tool, built-in HUD and tracking tool, and many others.
The operator was also among the first to introduce the hugely popular Mystery Bounty format in the international dot-com market.
While some of the GGPoker software features, such as its rewards scheme and strict rules against third-party tools, are not supported by all players, they could prove attractive to the WSOP given its solid reputation for being a strong consumer brand.
Such factors provide a strong foundation for a potential US partnership between GGPoker and the WSOP. But will it happen anytime soon? Most probably not, as the WSOP had already decided to extend its software partnership with 888poker until 2026.
While it's possible that the WSOP would eventually switch to GGPoker, there's still no assurance that it would happen anytime soon.