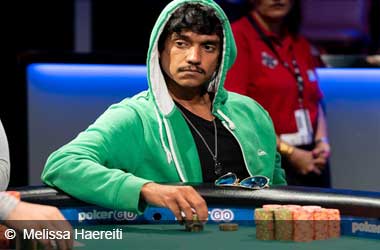 Upeshka De Silva's dream of winning his fourth gold bracelet was crushed after he was ultimately disqualified from taking part in the final table of the domestic portion of the 2020 World Series of Poker (WSOP) at the Rio in Las Vegas for testing positive for COVID-19.
He settled for 9th place with the minimum final table payout of $98,813.
Now, the Sri Lankan-American poker pro will have to deal with yet another challenge in his career after being accused of multi-accounting during the 2020 WSOP Online Series.
The allegations came from American poker pro Matt Stout, one of the most successful poker players in his home state of New Jersey. In a tweet, Stout accused De Silva of multi-accounting while playing in the 2020 WSOP Online Bracelet Series during the summer.
Feel bad for @PadawanPesh bc he got DQ'ed from the @WSOP "Main Event" final table for having COVID? Don't. It's karma. My friend witnessed him multi-accounting the other https://t.co/naH7zkoyJb bracelet events as "peeeeeeeeeno" but refused to report him. RT for awareness! @WSOPTD

— Matt Stout (@MattStoutPoker) December 28, 2020
According to Stout, his friend saw the three-time WSOP gold bracelet winner use another account while taking part in other bracelet events on WSOP.com, but opted not to report him while the tournament series was ongoing.
Stout's accusations clearly lacked any sound evidence that could back up his claims. He himself admitted that he wasn't expecting his friend to confirm it, though he said he did try to convince him to come forward and tell the truth.
De Silva allegedly played using another account under the name "peeeeeeeeeno", which, interestingly, is known to be owned by Irish player Rory Brown, De Silva's close friend. It is also worth-noting that Brown already has a green card and is a full-time American resident after moving to the country many years ago. He has since continued his poker career in the US.
Stout said the "peeeeeeeeeno" account participated in an online bracelet event back in July, but Brown was not the one using it. The account made the money in eight individual events during the US leg of the record-breaking series. But that in itself cannot be considered enough proof that De Silva cheated.
Poker Community Reacts
Stout received flak from some members of the poker community, including De Silva's followers, who attacked him for making allegations without strong evidence. While De Silva has remained tightlipped on the controversy, a person close to him came to his defense, saying everything was merely classless and groundless rumors.
Unless Stout's "friend" finally comes out and gives a first-hand account of De Silva's alleged wrongful practice, we will never know whether or not there's any truth to Stout's recent accusations. De Silva's name may have been placed under the spotlight due to this controversy, but Stout is likewise getting his own image hit by making direct allegations that he couldn't prove.