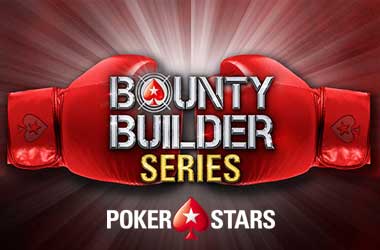 The popular Bounty Builder Series is back! PokerStars will once again host the festival this October , offering a total of $25 million in guaranteed prize pools. The tournament will start on October 13 and run till October 27.
Bounty Builder Series will feature 180 progressive bounty tournaments, most of which are no-limit hold'em, with other variants such as pot-limit omaha also included in the schedule.
Players may also take advantage of Halloween-themed promotions where they can win their way to some freeroll tournaments and take home extra prizes.
The series offers a wide range of buy-in options for players, with entry fees starting from as low as $1.10 to $10,300. For the duration of the festival, a total of 12 progressive bounty events will run daily between 10am ET and 5:30pm. Every event on the schedule will be played in progressive knockout format, where a player collects bounties from every opponent he or she eliminates.
The moment you knock someone out, you will directly earn a chunk of your victim's bounty, while the remaining part will be added to your own bounty.
Those who are looking for speedy action will be delighted to know that 47 of the events will adopt both turbo (43) and hyper-turbo (4) structures. Players may also take part in other varieties being offered at the festival, such as Progressive Total KO and Win the Button events.
Bounty Builder Series Main Event
The main attraction of the festival is the $530 buy-in Main Event which takes place on October 27. The event permits a maximum of three reentries and will be played in eight-handed format. It will run for two days, with players getting the opportunity to win a slice of the massive $2 million in guarantees.
Last year's edition of the Bounty Builder Series Main Event was won by Julius, a young player from Germany who used "121323243435454" as his online screen name. He took home $306,000 as top prize and took part in the event while streaming on Twitch.
Halloween-Themed Promotions
Every Wednesday and Friday, PokerStars will host "Trick or Treat" tournaments with BBS tickets up for grabs. Among other promotions for this year's edition include Midnight Challenges, a $5,000 Halloween KO Leaderboard, as well as three Halloween Freerolls, each offering $10,000 in prizes.
The top bounty-hunters will all earn tickets into the $10,000 freerolls which will take place on October 31. The top five players achieving the most knockouts will share the $5,000 leaderboard. During the previous edition of BBS, it was "Bananero17" who topped the leaderboard, earning him some extra cash plus a Platinum Pass worth $30,000.
However, this year there are no free Platinum Passes on offer. To find out more, check out the PokerStars website.