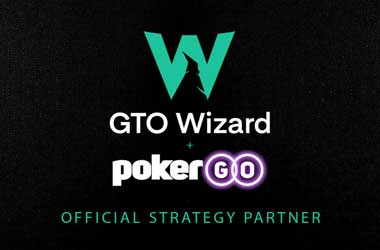 Summary:
PokerGO has teamed up with GTO Wizard to help players improve their skills
GTO Wizard is a GTO study tool offering pre-solved solutions
PokerGO will integrate GTO Wizard analytics across all its platforms
Game theory optimal (GTO) is proving extremely popular in modern poker with more and more players using the poker strategy to succeed in the game.
PokerGO, the world's largest poker content company, acknowledges the need to bring its services into line with the current trends and that's why it's partnering with GTO Wizard, a tool offering GTO solutions for poker players.
GTO Wizard Gives Players An Edge
The new partnership will allow the integration of GTO Wizard's branding and strategy insights across all of PokerGO's shows and platforms, such as PokerGO and PokerGo Tour (PGT) live broadcasts. The alliance will also see both companies engage in cross-marketing in which they can join forces in promoting their respective products and services.
PokerGO and GTO Wizard are also planning to jointly launch an annual GTO Wizard-branded event which will take place at the PokerGO Studio in Las Vegas.
Mori Eskandani, President of PokerGO, is all praises for GTO Wizard, saying it's the "best of the best" GTO tool out there. Through the fresh team-up, poker players will have enhanced access to industry-leading tools, allowing them to take their game to the next level.
Matt Chmelo, the founder of GTO Wizard, is equally delighted with the partnership, saying it is a dream-come-true for the company to collaborate with PokerGO. The partnership will revolutionize how poker is televised, he added.
GTO Wizard Free Trial
For those who may still be unfamiliar with GTO Wizard, it is a poker solver and GTO tool that provides solutions to "every possible situation in the game". It helps players better understand GTO and analyze their game.
GTO Wizard has millions of pre-solved solutions – from preflop to any river – allowing players to elevate their poker game. Additionally, it has a special feature where players can challenge themselves and put their skills to the test.
GTO Wizard also analyzes poker hand histories, allowing players to know what they need to fix and improve in their game. All of the features and data are available with just one click via subscription starting at $89 a month. But players may have access to some of the key features at a more affordable monthly fee of $49.
If you'd like to see how GTO Wizard works, you may visit its website to get free 24-hour access to some of the features. If you go ahead and subscribe, you'll get a 10% discount on your first purchase.