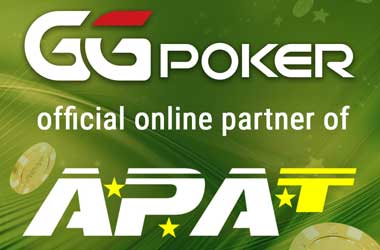 Summary:
Under the new partnership, GGPoker will host online events exclusive to APAT members
APAT members can win their way to major live events via online satellites on GGPoker
APAT has been helping amateur players achieve their dreams since 2006
The Amateur Poker Association & Tour (APAT) has entered into a new partnership with online poker operator GGPoker, opening up huge opportunities for newbies and aspiring players to hone their skills and succeed in the game.
GGPoker Hosting Exclusive Online Events for APAT Members
APAT CEO Leigh Wiltshire said their partnership with GGPoker will help improve the overall experience of APAT members and bring in new players to the amateur poker community. Angela Martin, GGPoker's UK Marketing Director, said they're delighted to link up with APAT in supporting the UK poker grassroots movement.
The new alliance will allow GGPoker to host exclusive online events for APAT members, beginning with a "Welcome Party" tournament scheduled for April 27. The tournament comes with an affordable buy-in of $5 and an extra $1,000 prize, along with additional perks.
Going forward, APAT members will be able to qualify for major live events via online satellites on GGPoker, with the site also hosting the online edition of APAT's World Championship of Amateur Poker (WCOAP).
APAT – Great For Aspiring Poker Players
APAT has been in the industry since 2006 hosting tournaments both live and online exclusively for amateur players, allowing them to showcase their talent and skills. Among poker pros who took part in APAT competitions early in their careers and eventually found significant success in the world of professional poker are Niall Farrell, Roberto Romanello and Liv Boeree.
Farrell was an APAT regular back in the day and won the UK APAT Team Championships in 2011. Now, he is one of only nine players who have won the coveted "Triple Crown" of titles – an accolade earned by a player who wins a World Poker Tour Main Event, a European Poker Tour Main Event, and a World Series of Poker (WSOP) bracelet.
Romanello and Boeree also started their careers by competing in APAT tournaments. Both finished 8th and 7th respectively in the 2007 and 2008 editions of the APAT Welsh Amateur Championships. Romanello went on to become a successful poker pro with multiple titles to his name, while Boeree is considered one of the most accomplished women in the game.
APAT aims to pave the way for more players to make a name for themselves by partnering with GGPoker, one of the world's leading online poker sites, they previously partnered with partypoker. GGPoker has built a reputation for poker innovation, setting world records, and coming up with offerings that benefit amateur and recreational players.