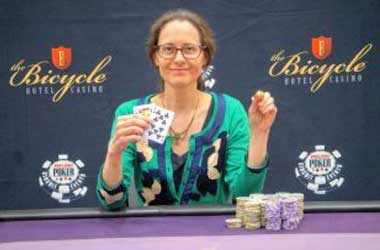 Nancy Matson is not a full time poker player because she hasn't had the success that she would like on the felt and has to keep a day job in order to pay her bills. However, that hasn't stopped her from pursuing her dream of being a top female poker pro and making it to the Global Poker Index (GPI) Ladies top 100 list.
The GPI is widely recognized as the most popular poker playing listing from around the world. The GPI follows a point system and ranks players accordingly and it is very rewarding for players to finish in the top 10 ranking as it means they have not only done well on the poker circuit but will also gain visibility that could bring them sponsorships and other exciting opportunities.
Matson uses her skills as video editor during working hours and plays poker during the nights. She was within the top 200 list of the GPI and set a goal for herself to accumulate as much points as possible to get close to breaking into the top 100 list. She made a lot of progress towards that goal as she won the WSOPC $1,125 NLHE event, Bicycle Casino which resulted in her getting a WSOPC Gold Ring.
Matson Wins First WSOPC Gold Ring
Nancy Matson not only won her very first WSOPC Gold Ring but also took home a nice paycheck for $42,940. The win will also give her a lot of confidence and it has now boosted her total career prize money past the 6 figure mark and now stands at $129,000.
There were a total of 159 players who signed up for the WSOPC $1,125 NLHE event which created a $159,000 prize pool. The first day saw as many as 141 players being eliminated and the second day saw 18 players battle it out. Matson was in the middle of the pack but slowly worked her way towards the top, accumulating chips and showing the others that she was a serious contender.
In the end, Matson had to battle it out with an experienced poker pro in Todd Rebello. He has over $720,000 in prize money and a WSOPC ring which he won in 2008. Matson had a tough fight on her hands but she came through in the end with a win. She will look to climb the GPI rankings in 2019 and make it into the top 100.