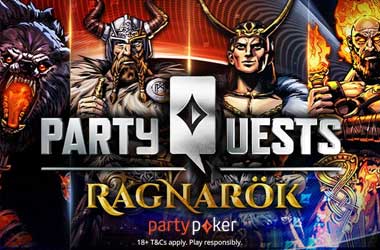 partypoker is currently running a new promotion that gives players the chance to win a seat into an exciting series of tournaments taking place on a weekly basis until July 23.
The world's second largest online poker site is giving away over $70,000 worth of Ragnarök freerolls each week.
By actively playing on the partypoker platform, you get the opportunity to win a share of a total of $300,000 worth of freeroll tournaments throughout the duration of the promotion!
How It Works
To get started, you simply have to log into your partypoker account! You'll get a free Ragnarök prize wheel spin each day when you log in, and every spin has a corresponding prize. You may increase your chances of winning more prizes by accomplishing poker-related challenges assigned to you.
The prizes come in the form of cash worth $1,000, or freeroll tournaments. These freerolls are named after the Norse Gods. As you may already know, Ragnarök pertains to a series of events, usually epic battles and natural disasters, predicted to lead to the death of iconic Norse Gods, such as Thor, Odin, Heimdallr, Freyr and Loki.
Freeroll Schedule
Each day, a designated Ragnarök freeroll tournament takes place, with prize pools ranging from $500 to as high as $20,000. The Asgard freeroll happens daily with $500 in guarantees, while Fenrir and Loki tournaments are scheduled every Monday and Tuesday respectively, both featuring $4,000 in prize pool. Odin and Thor take place every Wednesday and Thursday, guaranteeing $15,000 and $10,000 respectively.
The freeroll tournament with the highest guarantee ($20,000) is Valhalla, scheduled every Friday, followed by Surtr and Heimdall on Saturday and Sunday featuring $4,000 and $10,000 in prize pools respectively. All tournaments start at 7:00pm BST, except for Asgard which takes place an hour earlier at 6:00pm.
You might want to set your eyes on Valhalla as it involves some extra perks – If you win a ticket before 11:00pm on Thursday, you'll automatically win a Valhalla seat. Any unused freeroll ticket is also worth-keeping as it will increase your chips in the Valhalla tournament by at least 500, up to 25,000! This should be enough to motivate you to earn as much Ragnarök spins as possible. Remember, having extra chips will give you much-needed benefits while competing in any tournament.
To take part in the new promotion, you must have a partypoker account. If you aren't registered yet, download the software now and sign up! More details are available at the partypoker website.