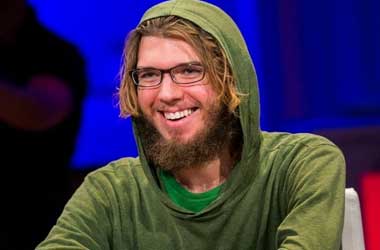 American poker pro Andrew Lichtenberger has announced the launch of his poker website Luckychewy.com.
The name references his online poker handle "luckychewy". He made the announcement on Dec 12 on Twitter stating that the new poker site in beta mode was now open for play money poker gaming. The site can be accessed in countries where online gaming is legal.
The client for the website is available for download and has been approved by UK Gambling Commission for adherence to its standards.
The software has been tested successfully for random number generation, unpredictable card sequencing and effective card shuffling for a single deck.
In a statement Lichtenberger said,
Our vision is simple – a poker site by the players for the players with low rake and great rewards. We have been sharing our platform with the international gaming community and intend to create as large a player pool as international laws allow for
Lichtenberger said that the site will see continual updates with regards to site functionality, design and user interface. Welcoming suggestions from players, Lichtenberger said that more offerings were being planned with poker lessons being one of them. Currently a poker school section on the site covers basics of poker along with a referral system for those seeking lessons from pros. A Coming Soon sign hints at more to come under this offering.
Lichtenberger has said that further updates with respect to real money licensing and legislation would be shared soon. The site also hosts the Lucky Chewy PGT (Poker, Gaming and Trading Social Community) which allows users to set up blogs and create groups etc. It acts as a sort of forum as well as allowing for discussions between players. A news section provides the latest updates on poker along with an ESPN poker news scroll.
As far as games go, the new site offers a list of daily tournaments – the 6-Max Showdown, Burke's Big 108, Akash 8-Handed $80, Midnight Masters, Kung Fu Eight by Eight, Wampole's Wisdom, Chewy's Daily Heads up $22 and Four-Handed. Upcoming introductions include the LuckyChewy's International Poker Series as well as the Daily Bounty Bonanza which will have a wide range of buy-ins.
With this launch, Lichtenberger is following in the footsteps of fellow pro Phil Galfond who announced in September that he was expanding his RunItOnce venture that currently focuses on online training and includes an online poker room. Industry observers hint that these ventures are in response to the treatment of pros at today's top pokers sites.