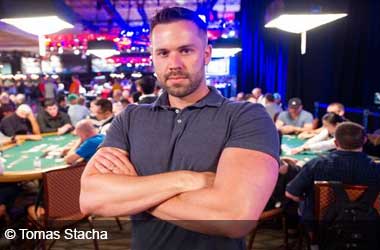 There is a stark difference between today's grinder and the average poker player several decades ago.
For a fact, when the World Series of Poker (WSOP) started back in the 1970s, poker players were a lot older and in bad shape. But as the years passed, the poker world has seen a shift in the way players take care of their health and total wellbeing. They no longer have a lifestyle of drinking, partying and eating what they want.
The younger generation of poker players are very health conscious and take care of what they eat and maintain high levels of fitness.
We can see this in action at the 2019 WSOP where there's All American Dave serving healthy meals on the go, giving poker-fitness enthusiasts the best value for their money.
Who is Nick Zautra?
Nick Zautra is more than happy that healthy options are now available at the WSOP festival. His main goal in life transcends beyond playing his favourite game.
The 33-year old is an advocate for healthy living and staying fit. Zautra is a former physical trainer certified by the American College of Sports Medicine. Apart from being a poker player, he is also a doctoral candidate in the cognitive science and history & philosophy of science at Indiana University in Bloomington. Zautra, who discovered his interest for poker in an early age, recently found a unique way to combine two of his passions.
Seven-Week Poker Workout Program
In the run up to the 2019 WSOP, Zautra put together a step-by-step poker-specific workout program, helping players to improve both their physical and mental performance during the summer. The Seven-week program came before the start of the series and was released in basic and advanced versions.
The program focuses on physical training and how it can give players more confidence and endurance, enabling them to make better decisions at the table. Ideas presented in the seven-week program were based on a broad knowledge base, with inputs and contributions coming from health and fitness experts, including Dr Matt Rhea (Athletic Performance Coach Indiana Football), dietitian Amy Seibenmorgen, and Greg Simmons (USA Powerlifting National Team Coach).
Zautra said he is more than willing to offer personal training services to poker players as a way of giving back to the community but he is currently unable to do so due to time constraints. As an alternative, he came up with a seven-week course that would teach players how to stay healthy and play their best during the entire tournament series. A free PDF of Zautra's workout plan is available for those interested.