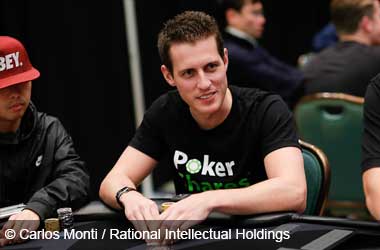 Mike McDonald pulled of an incredible feat and showed that he isn't just a poker player! The Canadian poker pro ultimately triumphed in his basketball prop bet after draining 90 out of 100 free throw shots on August 25.
But his win initially became controversial after Nick Schulman, one of the poker players who bet against him, questioned the validity of his victory.
Since the prop bet kicked off in April, McDonald had managed to improve his shooting potential and almost sunk the required number of free throw shots just over a week ago.
Many thought McDonald's chance of winning was slim, considering that he lacks the experience and even admitted he last played the game about eight years ago.
For him to accomplish the goal, he had to sink free throw shots at a 90% clip, almost the same percentage as Stephen Curry (90.6 %) of the Golden State Warriors, who is NBA's highest free-throw scorer.
Under the conditions of the bet, McDonald had to use a regular basketball and hoop while completing the challenge. To gain access to that, he had to travel almost three hours from his home in Canada to a basketball gym. This also meant he couldn't play for as long as he wanted as there were other hoopsters waiting for their turn to play.
Nick Schulman Disputes Win But Later Concedes
On Aug 25, McDonald had to stop midway through a set as his time on the basketball court was up. He was at 56/61 when the session was interrupted. He took a break and was back in the court about half an hour later.
The break quite tainted his win, according to some members of the poker community, including Schulman who was betting for him to lose the challenge.
Schulman said a break in the middle of a set nullified the win, as it gave McDonald some advantage.
McDonald Defends Victory
The Canadian was quick to defend his victory and expressed his willingness to repeat the challenge with no breaks to prove his shooting abilities and ultimately silence the critics. McDonald also argued that taking breaks was part of the conditions of the bet.
Some players also sided with McDonald, saying taking a break actually affects the shooter's rhythm, meaning there's a huge possibility he wouldn't be as well on pace as he was before the break.
With the debate intensifying on Twitter, Schulman eventually conceded, albeit with some hesitation, as he didn't want to be considered being "scummy". The three-time bracelet winner told McDonald he could take his $15K. With his latest victory, McDonald is now $200K richer.
Conceding the free throw bet I can't take it anymore pic.twitter.com/qyoH8IK7Bf

— Nick Schulman (@NickSchulman) August 26, 2020