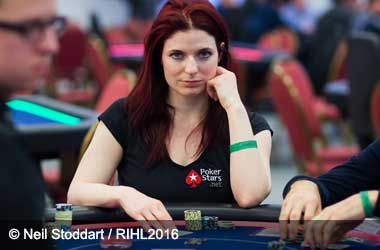 Summary
Jennifer Shahade is giving away a PSPC Platinum Pass via a poker hand storytelling contest
The contest runs until December 14, with the winner announced on December 30
Maria Ho and Sam Grafton are among the competition's judges
PokerStars players in the US and Canada have one more shot at securing a seat into the 2023 PokerStars Players Championship (PSPC).
The site's MindSports Ambassador Jennifer Shahade is running a poker hand storytelling contest, the winner of which will receive a $30,000 Platinum Pass. Players have until December 14 to submit their entries.
Share Your Best Poker Hand Story
Shahade runs an award-winning poker podcast called "The Grid" where she invites popular poker pros over to the show and let them talk about their big wins and bad beats with certain Texas Hold'em starting hands. The Platinum Pass contest she's running right now is based on that famous podcast.
To be in with the chance to win the $30K PSPC package, participants must share a story about a memorable poker hand, complete with details as to how the hand played out and what made it special. The poker hand in question could be real or fictional, played either online or live at tournaments or cash games.
It doesn't matter if the hand was played for low or high stakes – the main goal is to come up with an interesting storyline that inspires and teaches lessons about poker and life in general. Injecting some humor into the story would also help.
Here's what's in store for the Platinum Pass winner: $25K PSPC buy-in, six nights' hotel accommodation for two, airport transfer, $1,900 cash for other expenses, and Platinum Pass experiences.
Contestants may share their stories in any format they like – text, audio, or video. They are required to upload it online on Twitter, YouTube, Vimeo, SoundCloud, or their personal blog if they have one. If they're posting the story on social media, participants must use the hashtag #PlatinumPokerHand.
After uploading the story, the next step is to send an email to [email protected] with the link to the entry, the contestant's full name, and their country of residence. The email must also include a brief intro about them.
Winner to be Announced on Dec. 30
The submissions will go through a panel of judges, including poker pros Sam Grafton and Maria Ho. Shahade will announce the winner on December 30, 2022 on a special episode of The Grid. This should give the lucky winner enough time to prepare for the prestigious tournament which takes place in late January 2023 in the Bahamas.