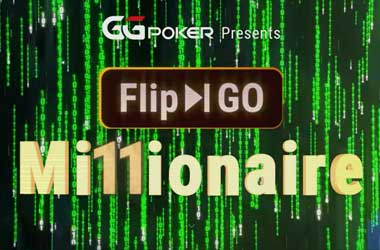 Summary
GGPoker will run special Flip & Go Mi11ionaire tournament
Tournament will run from Nov 1 to 11 with $1 million prize pool
The buy-in for the tournament is set to at $11
GGPoker has given PokerStars a run for its money during the last couple of years. PokerStars has held on to title of being the number one poker operator in the world for over a decade until GGPoker came on the scene and battled it out with PokerStars for the top spot.
GGPoker continues to push to knock PokerStars from the top by running unique and special promotions that give away millions of dollars in prize money each month. GGPoker has now announced a special tournament in November that will give its players a crack at $1 million in prize money.
Flip & Go Mi11ionaire To Give Away $1 Million
If you haven't played at GGPoker before you may not be very familiar with its popular Flip & Go tournaments. GGPoker initially experimented with this poker format in 2021 and received a strong market response. The online poker room has run a number of popular Flip & Go tournaments since then and so have other poker rooms who have taken a leaf from GGPoker's book.
Now GGPoker is expected to create a new record with its Flip & Go tournaments as the latest edition in November comes with the highest prize money till date. GGPoker has announced that it will run a special Flip & Go Mi11ionaire tournament from Nov 1 to 11 with the main draw taking place on 11/11.
A total prize pool of $1 million will be on offer and GGPoker has decided to keep the buy-in to just $11 to enable poker players with low bankrolls to take part in this special Nov promo. If the $11 buy-in is hard on your bankroll, you can take part in the numerous satellite events that are running on GGPoker for a few cents.
GGPoker has also confirmed that starting flights for the Flip & Go Mi11ionaire tournament will run every hour from Nov 1 to enable poker players from all over the world to take part.
Flip & Go Millionaire Format
The Flip & Go Millionaire format is easy to understand and play. The first stage is the Flip stage where players are dealt three cards and they will have to drop one before the flop, turn and river are made.
Players at each table will then play down to a winner and the winner then proceeds to the Go stage. Every player that makes it to the Go stage will get a cut of the $1M prize pool.