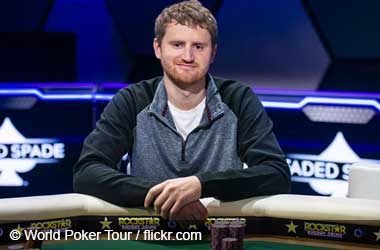 David Peters got into a three-handed battle that went on for nearly five hours at the Poker Masters $100,000 Main Event. In the end, Peters outlasted his competition and claimed the $1,150,000 first-place prize and finished in second place on the overall points table. Peters winnings are a nice addition to the $4.6 million that he has already won in 2018. He was victorious in the opening event of the Poker Masters series as well.
Even though he had a very strong showing, Peters fell just short of winning the series and the Poker Masters Purple Jacket. That honor went to the 23 year old poker pro Ali Imsirovic.
The last day of the Main Event started with Peters holding on to a slim lead over Dan Smith with Koray Aldemir and Bryn Kenney trailing significantly. Kenney was able to stay alive for a couple of hours with the short stack but he eventually got knocked out when he went all in with a queen-ten against Aldemir's queen-jack. After getting bounced, Kenney said that he thought that he did a good job of adjusting his strategy when he was short stacked.
Poker Central
The Big Grind
With such big chip leads over Aldemir, it appeared that it would almost certainly go down to Peters and Smith but the underdog made it interesting. He doubled up against Smith and then the three began their marathon grind. It got very exciting when Aldemir lucked out and doubled up again off of Smith. Right after that hand, Smith raised from the button and was answered by Peters who went over the top with his ace-ten. Aldemir called with a pair of nines but it was Peters who took the pot when the river gave him a straight. Aldemir never recovered and finally got knocked out by Smith.
Once heads up, Peters and Smith were almost even but that changed when Peters called a three-bet and hit top pair. He then flopped a nut flush which put him in an even better position. The last hand had Smith shoving his remaining stack with an ace-seven. Peters called with his dominated king-seven and it paid off as he hit his three-outer to win the event.
A Long Week
David Peters explained how grueling it was to go from a win in the first event to going cold for the next five events before coming back to win the last event. Even though it was a long and tiring week, Peters was glad how things finished and for the experience of batting it out with a great set of players.