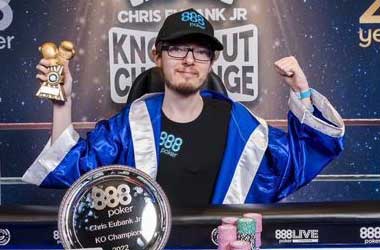 Summary
Results for Chris Eubank Jr. Knockout Challenge
Dave Gibson of 888poker Stream Team Wins Challenge
Salvatore Sciarotta wins $10K KO prize
The Chris Eubank Jr. Knockout Challenge, hosted by 888poker this weekend at the Victoria Casino in London, ended successfully with 888poker Stream Team member Dave Gibson being crowned as the winner.
The tournament was open to both online qualifiers and 888poker brand ambassadors who got the chance to compete with world boxing champion and now 888poker ambassador Chris Eubank Jr.
The British professional boxer carried a huge £10,000 bounty on his head, which would go to any player who would eliminate him. The massive KO prize was claimed by Salvatore Sciarotta, but Gibson was the last man standing and emerged as the winner.
Sciarotta Bags Eubank Jr's £10K Bounty
By the time the final table was reached, there were 30,000 chips in play. Christiaan G held an early lead after grabbing most of Eubank Jr.'s chips. The boxing champion quickly became the short stack and soon after he found himself battling it out in a crucial poker hand with Christiaan and Sciarotta. Eubank Jr. eventually bowed out of the tournament courtesy of Sciarotta.
After knocking out Eubank Jr, Sciarotta became the biggest winner of the tournament money-wise. It was a test of patience for Sciarotta who had poor cards during the early stages of the game. As the tournament went on, his cards improved which led to him winning the huge bounty on Eubank Jr.'s head. Despite not winning the event, Sciarotta was satisfied with the results.
Final Table Action
With four players remaining, Gibson climbed to the top of the chip counts. The 888poker Stream team member finished off Christiaan in 4th for £1,000 place before getting involved in a three-way all in which could have seen the tournament come to an early end if he won the hand. But Gibson was destined to face Sciarotta heads up after the latter sent Joao Oliveira in 3rd place for £2,000.
Gibson and Sciarotta entered heads-up play with the stacks even. Both scored a double, but Gibson ultimately dominated, winning £4,000 as top prize.
Gibson said he was just chill throughout the tournament and totally enjoyed the experience. It wasn't an easy battle for the streamer though, as he had sunk to the bottom of the leaderboard at some point. Some of Dave Gibson's friends and fellow ambassadors were there to cheer on him and it somehow helped him navigate his way to victory.