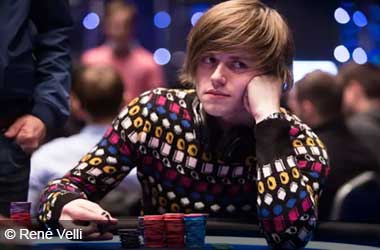 Charlie Carrel's poker resume is impressive in its own right. His total live earnings currently sit at more than $9.5 million, making him one of the top poker pros in his home country of England. Carrel has also achieved considerable success online, mostly playing on PokerStars under the alias "Epiphany77".
Carrel has won multiple titles both live and online, but for some reason, he has also become one of the most-disliked poker players of this generation, with many in the poker community still doubting his skills and abilities. On several occasions, he was held up as an object of ridicule and criticism on social media and online forums.
Now, it appears like the English poker pro wants to address everything that's been said about him and deal with the "toxicity" of the poker world once and for all by issuing a challenge to all members of the poker community.
Carrel tweeted that he is betting $100K – $200K that he can beat 500z online, winning over 50,000 hands. Carrel hasn't been as active at the felts for the past two years, and he thinks this is a great opportunity for all of his doubters and naysayers.
The 2015 PokerStars European Poker tour champion has three conditions for those interested to bet against him: they must be trustworthy, respectful, and should be serious about putting in the money.
Beating defined as winning over 50k hands. Betting 1:1 odds.

I won't reply to people who I don't think are 1) trustworthy 2) respectful or 3) serious about betting the money.

Given what's been said about me over the last 5 years, this should be good enough for many people.

— Charlie Carrel (@Charlie_Carrel) February 5, 2021
But even his latest challenge is not sitting well with a lot of poker players and fans.
Poker Community Reacts
One Twitter user said Carrel is doing it mainly for "publicity" and if he really wants to prove himself, he might as well play heads-up against the likes of Daniel Negreanu or Doug Polk, who just recently completed their grudge match.
Polk chimed in on the conversation, saying he'd love to know more about Carrel's latest challenge, but the English pro has blocked him on Twitter. Polk previously clashed with Carrel on social media after the latter suggested that child molesters must be shown more empathy and love. The verbal war escalated to Carrel threatening to file a defamation lawsuit against Polk.
Charlie is terrible at poker. Everyone knows it. The reason is simple, im not going to say it, but trust me its there, and if you see it, keep it to yourself, dont say anything, because its definitely there.

— Doug Polk (@DougPolkVids) February 5, 2021
Back to Carrel's 500z challenge – not everyone understands what he meant about "500z", but one poker fan was able to shed some light. $500zoom means $2.50/$5 NL, and Carrel won't be playing a single full ring game; he'll be playing against a pool of players, meaning he'll be battling different opponents. The commenter described it as a "poker crack".
It remains to be seen whether Carrel would proceed with his newest challenge. Back in 2018, he embarked on a bankroll challenge, with an aim to grow his $50 to $10K. He has yet to fulfill that challenge as of this writing.