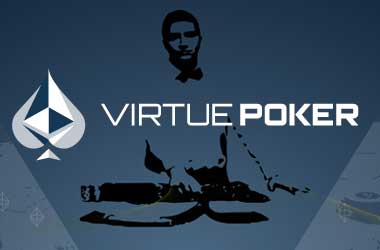 The blockchain-powered online poker network, Virtue Poker is set to take another big step as proceeds with its token sale which is scheduled for next month. The poker network is backed by Consensys, which is the world's largest development studio focused on blockchain technology.
Virtue Poker looks to differentiate itself from the competition by operating on a decentralized poker network.
The online poker website relies on the Ethereum blockchain and its ability to create end enforce smart contracts to provide its players with a robust poker network that does not have any of the flaws found with traditional online poker websites.
Ryan Gittleson
In a statement, Joseph Lubin, founder of ConsenSys and co-founder of Ethereum, said
Virtue Poker represents a bold early step towards revolutionizing the online gaming industry. By enabling players to be in full control of their assets except in the moments that they are held in escrow by a smart contract, and by creating a framework within which shuffles are provably fair, Virtue Poker ups the ante regarding user-friendliness and security for the online poker and gaming industry
One of Virtue Poker's main features is how it keeps the money of the players safe. Thanks to the Ethereum blockchain, no actual money is deposited on the network. The system creates a smart contract that commits funds to the game without any fund transfers happening.
Additionally, cheating by hacking is practically impossible. The system's distributed nature means that the shuffling is done across a network. There is no way a single hacker can enter one of the servers and influence the entire deck of cards.
Players Can Purchase Tokens From April 25
Players who are interested in checking out Virtue Poker will have to purchase tokens starting from April 25. Holding a token will allow players to participate in the alpha and beta release of the game, which is set to take place from May 22. Participants will have full access and have a chance to provide their own feedback on how to improve the system before the formal launch in late 2018.
During the alpha and beta, tokens will be used for wagering – and these tokens can be used to win real prizes. The idea behind Virtue Poker is to keep everything transparent and be accountable to the players. Ryan Gittleson, the co-founder and CEO of Virtue Poker plans to keep with this policy by being completely open about the token sale and ensuring that there are no other venues to get the tokens, like pre-sales or bonuses. There will also be a limit to the number of tokens a buyer can purchase. These measures are expected to bring fair pricing to the token sale.