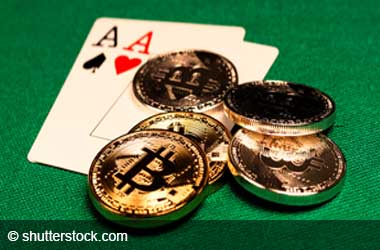 The online poker industry was one of the first industries that was bold enough to embrace cryptocurrencies.
This was a perfect marriage for both parties as online poker players generally prefer to remain anonymous and keep their financial information secure.
Playing with cryptocurrencies like Bitcoin (BTC) enabled them to do just that and many online poker operators quickly adopted popular cryptocurrencies like Bitcoin and Ethereum.
At the start of Jan 2017, one Bitcoin was a little over $800. Many online poker players preferred bitcoin as their cryptocurrency of choice and they were very happy in 2017 when Bitcoin's spike went up incredible. Bitcoin went from $800 to $19,000 by December 2017 and poker players who bought Bitcoin when the price was low thought they had caught a major break due to the massive spike in value over a 12 month period.
Many online poker players who had not bitcoin or very little bitcoin invested a lot of their savings to buy the cryptocurrency as bitcoin's spike was a great way to boost their bankroll. Thousands of poker players also decided to sign-up at bitcoin online poker sites so that they could encash their winnings in bitcoin.
The hype surrounding bitcoin started to fade as soon as we entered 2018 and bitcoin's value started to drop. Investors and poker pros kept their faith in bitcoin as they believed things would change. However bitcoin continued to plunge with each passing month and today bitcoin has fallen to $3,900. Crypto analysts believe that bitcoin will continue to drop and might end up close to $3,000 before the end of the year.
Poker Pros Trying To Be Positive About Bitcoin
That's not good news for poker pros who have invested heavily into bitcoin. Many of them bought bitcoin in 2017 when the value was over $5,000 and that means they have lost money in their investment.
Poker pros have learned to roll with the punches as this is the life of a professional poker pro. Many of them have taken their losses with a pinch of salt and a sense of humour while some like Tony G continue to remain optimistic about the crypto market in general.
Poker pro Daniel Cates recently tweeted
BTC is crashing and I bought some at the top. This sucks a lot but can't sell, damn. Just too crazy to do that. Now it would be really crazy to buy some real low despite big losses, who could be that insane? ME! I might be that insane! Hahahaha.