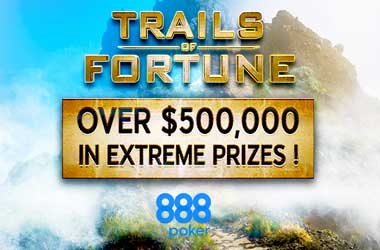 Players on 888poker are in for a new adventure! The online poker site has just launched a new promotion which will see $500,000 in "extreme" prizes being given away beginning this week, through to August 9. Dubbed "Trails of Fortune", the brand-new promo offers players yet another chance to boost their bankroll in many different ways! More details below.
There's definitely no shortage of chances for players to win big in the Trails of Fortune with daily and weekly prizes up for grabs.
Each week, $30,000 in prizes is on offer via the 888Summit, a multi-flight freeroll running weekly, with three starting flights taking place each day.
These Day 1s only require a ticket to enter, which players can obtain by completing a daily challenge, or through playing the daily spin on Hiker's Loop. The starting flights will give away seats to Day 2 which takes place every Sunday.
Another way to win extra cash is by participating in the Cash Peaks Freeroll, running every day at 17:15 (GMT). Players kick off the action with 3,000 in chips, played in three-minute levels. This turbo freeroll comes with a $1,000 guaranteed prize pool, which equates to $30,000 in prizes being awarded throughout the month.
888poker
The Trails of Adventure promo is also giving you the chance to walk away with a whopping $1,000,000, via the Blast Heights Freeroll which also takes place daily at 16:15 (GMT). This freeroll is giving away 200 x $5 Blast Tickets, which you can use to play in the BLAST jackpot sit & go tournaments running on 888poker. If you're lucky enough, you might just hit the highest prize pool multiplier and ultimately win $1,000,000.
How To Get Involved
To enter the three freerolls mentioned above, you must first earn tickets by completing daily challenges. You are allowed to accomplish one challenge per day and for each completed challenge, you will earn one ticket which you can use to take part in the 888Summit, Cash Peaks or Blast Heights freerolls.
You can win a freeroll ticket through the "Tournament Trek Challenge" where you only need to play tournaments with $3 worth of total buy-ins. BLAST is included in this, but rebuys are excluded. A ticket will also be awarded to you if you're able to place bets in casino games amounting to $5, via the "Casino Adventure Challenge".
In the "KQ Cliffside Path Challenge", you'll earn a freeroll ticket by simply winning a hand in cash games with a minimum stake of $0.02/0.05. A Trails of Fortune freeroll ticket is also up for grabs in the "Hiker's Loop Spinner".
To find out more information, please visit the 888poker website.